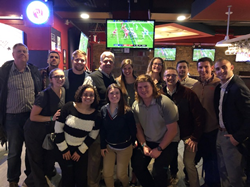 "It is vital that we initiate and continue our professional relationships. I enjoyed meeting with the young professionals. For me what began as mentorships, many have turned into life-long friendships." AJ Duffy NATA DII President
HARRISBURG, Pa. (PRWEB) January 12, 2019
On December 13th, The Pennsylvania Athletic Trainers' Society (PATS) Young Professionals Committee (YPC) in conjunction with Temple University hosted a continuing education (CEU) event entitled, Can You Hear Me Now? Creating and Improving Relationships Between Mentors and Mentees. The event aimed to create a series of talks to help develop and cultivate the relationship between mentors and mentees. The event coincided with the launching of the PATS YPC launched its Mentorship Program this past June. The CEU event targeted "ideas worth spreading" to continue advancement of not only the YPC mentorship initiative, but the profession of athletic training.
Here is an inside look at the schedule of events, speakers, and panel discussion: What Is Mentorship?, Jamie Mansell PhD, LAT, ATC & Anne Russ PhD, LAT, ATC; Mentorship in a Non-Traditional Setting, K. Ellis F. Mair Ed.M, LAT, ATC; Helping Others on Their Journey by Continuing Yours, Destinee Grove BA, LAT, ATC; Extending the Mentor-Mentee Relationship Beyond Athletic Training, Kyle Harris MS, LAT, ATC; The Role of Professional Organizations in Mentorship, Jake Powell BS, LAT, ATC.
Immediately following the education series, attendees walked over to Draught Horse for a social event sponsored by PATS partner, Go4Ellis. This was the second regional social held by the YPC to cultivate learning and gathering opportunities for all involved in the PATS YPC Mentorship Program.
"The YPC Southeast Region CEU event at Temple University & Social sponsored by Go4Ellis was a successful and enjoyable evening. Excellent speakers highlighted the value and need for mentorship through all career levels and settings. Thank you to Dr. Jaime Mansell, Dr. Anne Russ, Ms. Ellis Mair, Ms. Destinee Grove, and Mr. Kyle Harris for providing such engaging content. Excellent conversation continued into the night at the social as wisdom was shared and new friends were made over drinks courtesy of Go4Ellis. We were joined by incredible athletic trainers and students who are deeply interested in improving the profession. The YPC looks forward to fostering the new connections and mentorship pairings made as a result of this event." – Jake Powell, YPC Committee Member and Event Organizer
AJ Duffy, a mentor in the program, stated "what made the evening complete was the meet and greet afterwards. It is vital that we initiate and continue our professional relationships. I enjoyed meeting with the young professionals; several of whom I had as students either in the classroom or in the clinic." He continued by saying, "For me what began as mentorships, many have turned into life-long friendships."
All YPC events and socials are open to all PATS members and athletic training program students. The YPC's next event will be held on Sunday, March 10th, 2019. The YPC has paired with the Lehigh Valley Phantoms to support Athletic Trainer Night during National Athletic Training Month. Please check presidential blasts and Facebook for further event updates and details.
The YPC thanks Temple University and Go4Ellis for their generosity in sponsoring this event.
For more information regarding this topic or to schedule an interview with PATS President George Roberts Med, LAT, ATC, please contact Linda Mazzoli MS, LAT, ATC, PATS Executive Director at patsexecutivedirector(at)gopats.org
The Pennsylvania Athletic Trainers' Society, Inc. is a progressive organization of licensed health care professionals who work under the direction of a licensed physician. Our society continues to increase public awareness and education regarding Athletic Trainers and the Athletic Training profession while serving as the premier source of information for public safety, injury and illness prevention, early intervention, patient care, and healthcare delivery for the physically active in the Commonwealth.
"The Keystone to a Healthy and Physically Active Life"