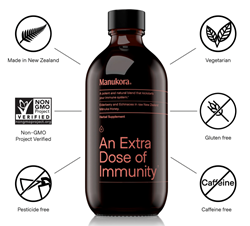 Our new Extra Dose of Immunity supplement is a natural way to give you the immune boost you need to get going again when your immune system feels compromised
AUCKLAND, New Zealand (PRWEB) February 11, 2021
The premium New Zealand Mānuka Honey brand, Manukora, announces today the launch of a brand-new natural herbal supplement, An Extra Dose of Immunity, the second in their botanical range. This supplement was created in partnership with a medical herbalist using carefully selected herbs, Echinacea and Elderberry to provide a natural immune boost.
An Extra Dose of Immunity is a potent and natural blend that was created with a powerful combination of antioxidants to kick-start the immune system when your body needs it. Extra Dose is most effective when taken as soon as an individual feels their immune system is being attacked, and it can be taken twice a day as needed.
Like Manukora's first product in their new botanicals range, A Daily Dose of Immunity, the new 'An Extra Dose of Immunity' blend is not just a fusion of honey with additives. This is an all-natural herbal supplement that has been developed by a medical herbalist and uses Mānuka Honey as a unique delivery method. Unlike other natural supplements that often use pills, capsules, or water, An Extra Dose of Immunity uses pure, raw New Zealand Mānuka honey, yielding all the benefits of Mānuka honey as well as being a natural energy source that tastes great.
With a delicious elderberry/berry flavor and botanical taste, An Extra Dose can be enjoyed from the spoon or in a hot or cold beverage. Being a liquid supplement, it is perfect for rapid absorption to give the body the boost it needs.
An Extra Dose of Immunity contains three active ingredients, including:
● New Zealand Mānuka Honey - a natural source of energy. This honey is raw and with MGO 100+
● Elderberry- contains the equivalent of 6.75 grams of fresh elderberries (Sambucus nigra) containing anthocyanins which act as antioxidants for extra immune support
● Echinacea- contains the equivalent of 2.3 grams of dried Echinacea (Echinacea purpurea) root to kickstart the immune system
The species and part of the active herbal ingredients used in this product have been carefully selected for their potency and efficacy. The blend has been formulated by a medical herbalist to ensure the product delivers a therapeutic dose of each herb, the recommended amount to feel a difference.
Manukora has been producing high-quality Mānuka Honey since 1998 and is one of the fastest-growing Mānuka honey brands in the US. Based near Matamata, at the foot of the Kaimai Ranges in rural New Zealand, Manukora's packing plant couldn't be closer to the source of the world's best Mānuka. Manukora is 100% New Zealand owned and operated and is extremely committed to environmental sustainability. Manukora guarantees that it's products are non GMO, gluten-free, caffeine-free, and antibiotic-free.
"Our new Extra Dose of Immunity supplement is a natural way to give you the immune boost you need to get going again when your immune system feels compromised," said Mike Bell, CEO of Manukora. "We are excited to share a product that pairs our unparalleled Mānuka honey with a powerful blend of potent herbs to help you quickly and effectively activate your immune system."
Manukora is on a mission to create Mānuka powered health products that promote the longevity of our world. They have a history in New Zealand, a dedication to protecting nature, and a commitment to sustainability, transparency, and traceability. They want the best for their customers, because Manukora isn't just good for you, it's good for the planet too.
Manukora's An Extra Dose of Immunity is now available for sale online at https://manukora.com/ for $49.99 per bottle with about 40 doses included ($1.25 per dose). One bottle of An Extra Dose of Immunity contains over one month's supply of the supplement. Learn more at https://manukora.com/
Follow Manukora
https://www.facebook.com/manukoranz
https://www.instagram.com/manukorahoney/
Media Contact
Christina Towle
BuzzBright PR
609.651.3529