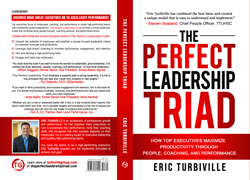 "People will work harder for you if they know you care about and respect them."
FRISCO, Texas (PRWEB) June 10, 2020
This newly released, cutting-edge book outlines a simple, unique leadership model that combines a focus on people, coaching, and performance. In these tumultuous times, it is even more important than ever to focus on these leadership principles to maximize productivity.
In The Perfect Leadership Triad, Eric Turbiville helps executives understand the importance of putting employees before the business, coaching employees to improve competencies and performance, and holding employees accountable to perform at a high level.
Turbiville combines his experience as a former Fortune 500 executive, a credentialed executive coach, and a leader of many high-performing teams, to help readers grow into more effective and impactful leaders.
Drawing on his own broad experience, combined with many examples from the business world, Turbiville provides the formula to excel as a business leader. He shows that the most effective executives are people-focused, coaching-centered, and performance-driven.
Please visit the author's website at turbivillegroup.com to learn more about the new book.
To contact Eric for an interview or more information, email him at eric@turbivillegroup.com.
Facebook https://www.facebook.com/turbivillegroup/
LinkedIn https://www.linkedin.com/in/eric-turbiville-mba-pcc-446a73b6
Instagram @ericturbivilleauthor
Instagram @turbivillegroup