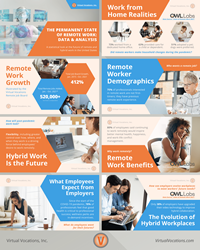 "If companies want to remain competitive in the future and retain their workers, they must approach work with a remote-first mindset." –Virtual Vocations Senior Job Data Content Producer Kimberly Back
TUCSON, Ariz. (PRWEB) November 23, 2021
A new report from one of the web's leading remote job boards aims to paint a picture of what the workforce will look like post-pandemic.
Founded in 2007 by CEO Laura Spawn and CTO Adam Stevenson, Virtual Vocations is a family-owned, 100% virtual company that's spent the last 14 years connecting jobseekers with legitimate remote job openings from expert-vetted employers.
In addition to providing a database that allows jobseekers to easily sort through tens of thousands of remote job openings, Virtual Vocations has documented the rise of remote work over the years with a series of original reports examining both internal company data and the results of surveys conducted among jobseekers and current work from home professionals.
For its latest release, "The Permanent State of Remote Work," Virtual Vocations analyzed years' worth of internal data and survey results alongside new statistics published in Owl Labs' fifth annual "State of Remote Work" report to provide a glimpse into what the work landscape will look like post-pandemic.
The result, according to Virtual Vocations Senior Job Data Content Producer Kimberly Back, is a holistic, data-driven look at the present state and future of remote and hybrid work in the U.S.
"Remote work has driven workplace conversations since the onset of the COVID-19 pandemic: Will it continue after the pandemic? Are employees really just as productive as they were when they work from a physical office? As an employer, should I give employees this much autonomy?" Back said. "Answers to these often hot-button questions vary, so for Virtual Vocations, it was important to rise above the chatter and present data-backed conclusions about the true state of remote work in the U.S."
Owl Labs' 2021 State of Remote Work report, prepared in conjunction with Global Workplace Analytics, features the results of a survey that polled more than 2,000 full-time U.S. workers on topics including how they perceive hybrid and remote work arrangements and how their behaviors at work have changed since the onset of the COVID-19 pandemic.
"By analyzing our own internal company data and survey results, then comparing our statistics to Owl Labs' latest 'State of Remote Work' report, we were able to generate a holistic picture of remote work and its value to the modern workforce," said Back, who authored Virtual Vocations' report.
Among the findings outlined in Virtual Vocations' Permanent State of Remote Work: Data & Analysis:

Owl Labs' 2021 State of Remote Work report revealed 73% of employees have returned to working in the office at least once per week since the start of pandemic, but found nearly 6 in 10 would prefer to work remotely all of the time. A survey from Virtual Vocations produced similar findings: 68% of respondents said working from home was the least stressful work arrangement for them, while just 4% said the same of working on-site.
The rise in popularity of remote work arrangements has made way for a massive uptick in the number of remote jobs available to jobseekers. The Virtual Vocations team added more than 520,000 listings to its Remote Jobs Database in the first 10 months of 2021 alone, marking a 412% growth for the company's job board since January 2015.
Data from both Owl Labs and Virtual Vocations shows workers across generations have taken the remote work boom as an opportunity to relocate themselves and their careers. Owl Labs' State of Remote Work report found Baby Boomers were "the largest age group to move to another state (35%)," while half of Millennials and a third of Gen X members made international moves. Meanwhile, a Virtual Vocations survey found more than 80% of both Millennials and Baby Boomers are interested in learning more about the digital nomad lifestyle.
According to Back, the data also shows professionals are prioritizing flexibility in the wake of COVID-19 — and they aren't afraid to make big changes to achieve a healthy work-life balance.
"We found that in the candidate-driven job market, which arose during the pandemic and as a result of 2021's Great Resignation, employees will continue seeking flexible, remote, and hybrid job options. And they aren't afraid to quit if employers cannot or will not deliver," Back said. "So if companies want to remain competitive in the future and retain their workers, they must approach work with a remote-first mindset."
To learn more about Virtual Vocations and view the company's full analysis, visit: https://www.virtualvocations.com/blog/annual-statistical-remote-work-reports/the-permanent-state-of-remote-work/
ABOUT VIRTUAL VOCATIONS
Founded in 2007 by CEO Laura Spawn and her brother, CTO Adam Stevenson, Virtual Vocations is a small company with a big mission: to connect jobseekers with legitimate remote job openings. To date, Virtual Vocations has helped more than four million jobseekers in their quests for flexible, remote work.
In addition to providing a database that houses more than 30,000 current, hand-screened remote job openings at any given time, Virtual Vocations offers jobseekers a number of tools to aid in their job searches, including exclusive e-courses and downloadable content, and resumé writing services. Virtual Vocations also releases several data-driven reports each year on current trends in remote work.
Virtual Vocations, Inc. is a private, family-owned, and 100% virtual company incorporated in Tucson, Arizona.
PRESS INQUIRIES
Michelle Rawlings
michelle(at)virtualvocations(dot)com
1 (800) 379-5092 ext. 703
VirtualVocations.com