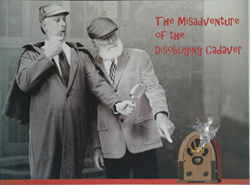 "Our partnership with Petaluma Radio Plays allows listeners to have a front row seat on the action, with the convenience of a digital audiobook download."
PETALUMA, Calif. (PRWEB) September 04, 2018
Ask Sherlock Holmes: That thud you hear when you slip in your earbuds is not just a body in a late 19th century morgue hitting the floor. It's also the sound of the first shipment of audio theatre content landing in the digital archives of Oregon-based Blackstone Publishing, a special delivery courtesy of the Petaluma Radio Players. The radio theatre troupe, located just 34 miles north of the Golden Gate Bridge, enters its fourth year of producing live-on-stage and recorded vintage and modern audio dramas, with the company's first distribution deal.
The evidence? Four one-hour comedy mysteries from 'The Misadventures of Sherlock Holmes' series by U.K. playwright, Vince Stadon, are set to debut in Blackstone Publishing's Fall catalog on 10/16/2018. The mysteries include: 'The Misadventure of the Disgruntled Physician,' 'The Misadventure of the Disobliging Cadaver,' 'The Misadventure of the Psychic Detective,' and 'The Misadventure of the Injudicious Jurist'. One audio play among the collection, 'The Misadventure of the Disobliging Cadaver,' is a PLATINUM Division nominee winner at the 2018 'HEAR Now' Festival in Kansas City, MO, considered the preeminent body for excellence in national radio theatre.
Anne Fonteneau, Vice President of Sales for Blackstone Publishing, says, "Sherlock Holmes has been a Blackstone favorite since our early days, when we released some of Sir Arthur Conan Doyle's original stories on cassette. It is fantastic to be able to bring this character to a new generation with this award-winning collection of full-cast plays. Our partnership with Petaluma Radio Plays allows listeners to have a front row seat on the action, with the convenience of a digital audiobook download."
Adds Ralph Scott, Supervising Producer for the Petaluma Radio Players, "Playwright Vince Stadon has that rare ability to take the ubiquitous and arguably overinterpreted characters of Sherlock Holmes and Dr. John Watson and drop them into storylines fabulously new, hysterical, and immensely entertaining. When Holmes and Watson connect in one of their 'misadventures,' audio book audiences will laugh, and Professor Moriarty will cry unconsolably. It's a beautiful thing, really. The Petaluma Radio Players are delighted that Blackstone sees the humour and the opportunity in all of this."
'The Misadventures of Sherlock Holmes' series is available through Blackstone Publishing as both single play downloads and as a 4-play collection by visiting: downpour.com. The Petaluma Radio Players, LLC, a California limited liability company based in Petaluma, California, have produced exceptionally high-production value radio and audio dramas from playwrights around the world since 2015. Blackstone Publishing, which celebrated its 30th anniversary in 2017, publishes groundbreaking books (fiction and nonfiction) by talented writers, while forging long-term connections with readers, booksellers, librarians, and the overall literary community.