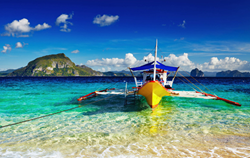 NEW YORK (PRWEB) August 08, 2018
A collection of more than 7,000 islands, the Philippines has quickly become a bucket list island destination for travelers in 2018. The Southeast Asian country boasts more than 22,000 miles of coastline with pristine beaches, cosmopolitan cities, rich history, and welcoming locals ready to share Filipino culture with visitors.
Following is a sample of itineraries from members of the The United States Tour Operators Association (USTOA) to inspire a hassle-free vacation to the Philippines with exclusive local access and peace of mind. For more USTOA member packaged travel to the Philippines, visit https://ustoa.com/why-we-travel/philippines.

For more information about USTOA or to find a dream vacation to the Philippines search Philippines in the "Find Your Dream Vacation" section of the USTOA homepage.
For more information on USTOA, visit http://www.ustoa.com, call 212-599-6599, or email information(at)ustoa(dot)com.
About USTOA:
Representing nearly $15 billion in revenue, the member companies of U.S. Tour Operators Association provide tours, packages and custom arrangements that allow 8.6 million travelers annually unparalleled access, insider knowledge, peace-of-mind, value and freedom to enjoy destinations and experiences across the entire globe. Each member company has met the travel industry's highest standards, including participation in the USTOA's Travelers Assistance Program, which protects consumer payments up to $1 million if the company goes out of business.
As a voice for the tour operator industry for more than 40 years, USTOA also provides education and assistance for consumers and travel agents.
Contact:
Gina Dolecki/Katherine Henry
Redpoint
212-229-0119
dolecki(at)redpointspeaks.com /henry(at)redpointspeaks.com
###