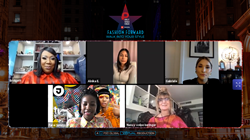 "The discussions were so intuitive. Each woman on each panel had brilliance and perspective to offer, and the PGD Global Virtual Clubhouse platform enabled a truly interactive experience," said Shana Booker, Executive Event Director at PGD Global.
PHILADELPHIA (PRWEB) October 28, 2020
A PGD Global Production, the Philly Female Forum presented by TOYOTA was held virtually on October 19, 2020 with over 400 registered guests. The event was a virtual celebration of sisterly love during a time where women must come together to lift one another, and debuted in. PGD Global's new virtual venue known as "The PGD Global Virtual Clubhouse" .
The first ever Philly Female Forum featured 20 of the most powerful women in Philadelphia that spoke about their personal experiences relating to Sports, Media, Business and Fashion during the day of sessions that were kicked off by NBC10's Aunyea Lachelle. The programming focus was directed towards camaraderie, networking and helping women expand their vision of success, no matter what age or stage of life.
"The discussions were so intuitive. Each woman on each panel had brilliance and perspective to offer, and the PGD Global Virtual Clubhouse platform enabled a truly interactive experience," said Shana Booker, Executive Event Director at PGD Global. "We're keeping the clubhouse open to the Philly Female Forum so guests can replay the panels and continue networking with other guests."
The PGD Clubhouse opened their online doors 24 hours prior to the production start of the "Philly Female Forum" giving attendees the opportunity to register and customize their profiles, surf the platform and prepare for the forum the next day by learning more about the panelists in expanded bio sections. The PGD Clubhouse has a user-friendly design, and Philadelphia inspired colors. The live inspirational panels were scattered through the day on the "Main Stage" of the platform, and featured TOYOTA and PGD Global programming. The vibrant experience was completed with Cocktail, Exhibitor and Social Lounges, and the ability to "Chat & Mingle" with everyone who is logged in to the Clubhouse.
"We are living through the creation of virtual networking and we were so thrilled to debut The PGD Global Virtual Clubhouse. We intend to continue to build the clubhouse into something special and revolutionize how conferences are workshops are experienced," said Nisha Sadekar, CEO of PGD Global. "Our plan was to build a platform where all women in Philadelphia come together annually, connect with one another by experiencing value in sharing ideas and inspiration, being resources to one another, while shaping the future."
The collection of broad topics featured five "Philly Fabulous Panelists"; 1 Moderator and 4 Featured Speakers. Panelists shared their personal experiences, key pieces of advice and their vision for the future of their businesses. Hosted for women and by women, PGD Global focused on the powerful and historic city of Philadelphia to launch their platform, which they plan to rollout nationwide. Guests will have access to some of Philadelphia's leading ladies, as they virtually convene to share their inspiring insight, pivots, processes and future developments within their respective fields.
PHILLY FEMALE FORUM: WOMEN OF POWER PANELISTS INCLUDED:
PHILLY FEMALE FORUM EVENT HOST
Aunyea Lachelle, Host of NBC10's Philly Live
MEDIA 2020 presented by CASHMAN & ASSOCIATES
Brittany Shipp, First Weather Alert Meteorologist NBC10
Kristin Detterline, Editor in Chief of Modern Luxury & Philly Style
Sharrie Williams, Lead Anchor & Reporter WPVI-6abc Philadelphia
Rachel Ferguson, Chief Innovation & Global Diversity Officer Visit Philly
Patty Jackson, Legendary On-Air Personality & DJ, WDAS-FM
Sharrie Williams: It's Philadelphia, we are public people. Reach out to people and they will reach back.
Patty Jackson: Step into your journey! Do it on your own. Make social media your BFF!
ABOUT THE BUSINESS presented by TOYOTA
Sharrie Williams, Lead Anchor & Reporter WPVI-6abc Philadelphia
Jennifer Rodriguez, President & CEO, Greater Philadelphia Hispanic Chamber of Commerce (GPHCC)
Valarie Cofield, President & CEO of the Eastern Minority Supplier Development Council (EMSDC)
Christine Krzyzanowski, Co-Founder and CMO of PLLAY Labs, Inc.
Tiffany Newmuis, Senior Manager, Campus Experience at Comcast
Jennifer Rodriguez: The fragility of the entrepreneur businesses. Thinking how our organization can help with a sense of urgency.
Valarie Cofield: While we are watching businesses struggle, we are watching them pivot and transition and build up. We must be able to help assist these transitions.
Christine Krzyzanowski: Show people who look like us that you can not only be here, but raise the capital to do it BIG!
FASHION FORWARD presented by JEFFERSON UNIVERSITY FASHION SCHOOL
Bridgett Battles, Image Consultant, Author & CEO Bridgett Battles Experience
Nancy Volpe-Berringer, CEO of NVB, Fashion Designer, As Seen On Project Runway
Gabriela Guaracao, Founder & Creative Director of AMERICAE
Alnika Lovello, Founder of Lovello Elizabeth
Farai Simoyi, Fashion Design Program Director at Jefferson University
Alnika Lovello: The community helped build my brand UP. #SupportWomenInYourCommunity Invest in presentation and quality. Do it for you! Believe in yourself!
Gabriela Guaracao: Coming back to NEW Normal! Colorful pivots, adopt to needs and production, and create things that customers can use and would want during this time! #AdviceAndAccessories Take the dream and work at it everyday! Keep on going...
WOMEN IN THE SPORTS GAME presented by TOYOTA
Mina SayWhat, On-Air Radio Personality
Shana Booker, Executive Event Director & Management of PGD Global
Lara Price, COO of the Philadelphia 76ers & EVP of HBSE
Dei Lynam, Sports Analyst
Tiffany Howard, Assistant Athletic Director, Business Operations - Temple University
Lara Price: If you have a seat at the table, speak up and use it! It is our responsibility to speak up when we are the only women in the room.
Tiffany Howard: As I have established myself, my voice has been heard and mutually, I listen.
For more information and to register for 2021, visit http://phillyfemaleforum.com/ or http://www.pgdglobal.com.
MEDIA CONTACTS
CASHMAN & ASSOCIATES
Philadelphia Media & Editorial Requests
Michelle Conron
Cashman & Associates
michelle@cashmanandassociates.com
Phone: 215.806.5930
PGD GLOBAL, Play Golf Designs INC.
Virtual Production & Partnership Requests
Shana Booker
PGD Global
Event Director
shana@pgdglobal.com
Phone: 215.287.3287
Nisha Sadekar
PGD Global
Event Partnerships
nisha@pgdglobal.com
Phone: 310.926.4075
ABOUT PGD GLOBAL & THE "PROJECT FAIRWAY" MOVEMENT
Play Golf Designs, Inc. (PGD Global) is the future of golf entertainment meets golf entry. An innovative golf-focused firm, directing and producing luxury events and content for some of the world's most legendary athletes, brands, entertainers and organizations including Coach Mike Woodson, Julius "Dr. J" Erving, Jalen Rose, The Calvin Peete Foundation, Toyota, Diageo and MGM Resorts International. PGD creates the most innovative golf tournaments and experiences with a focus on elevating and celebrating diversity and inclusion within the game. In 2020 PGD Global announced "Project Fairway", a movement dedicated to growing the game of golf for young girls and women by connecting them with golf through lifestyle and wellness. PGD Global operates golf-lifestyle events and experiences all around the country, welcoming new golfers and businesses to the game with creativity, purpose and inspiration. More info: http://pgdglobal.com.
ABOUT TOYOTA
Toyota, creator of the Prius hybrid and the Mirai fuel cell vehicle, is committed to building vehicles for the way people live through our Toyota and Lexus brands. Over the past 60 years, we've built more than 40 million cars and trucks in North America, where we have 14 manufacturing plants, 15 including our joint venture in Alabama (10 in the U.S.), and directly employ more than 47,000 people (over 36,000 in the U.S.). Our 1,800 North American dealerships (nearly 1,500 in the U.S.) sold nearly 2.8 million cars and trucks (nearly 2.4 million in the U.S.) in 2019.
ABOUT CASHMAN & ASSOCIATES
Cashman & Associates is a full-service lifestyle marketing and communications agency with a client base comprised of some of the most reputable and well-known global brands. For nearly 20 years, Cashman & Associates has built a reputation as the go-to agency in the region for strategic public relations campaigns, influencer marketing & engagement, social media management, experiential marketing, community immersion, special events, project management, brand marketing, and graphic design. The firm specializes in connecting upscale lifestyle brands to their consumers in the hospitality, food & beverage, travel & tourism, fashion & retail, entertainment, residential, and non-profit industries. Cashman & Associates is headquartered in Philadelphia with a network that extends through all major media markets including New York, Miami, Chicago, Los Angeles, Austin, Washington D.C., Pittsburgh, Boston and Las Vegas. We'll tell your story to the world. For more information, visit http://www.cashmanandassociates.com, "Like us" on Facebook or "Follow us" on Twitter, Instagram, and LinkedIN.