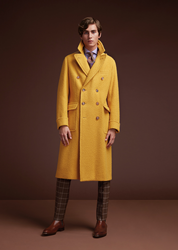 Paulette Garafalo, CEO, and President of Paul Stuart says, "This new Phineas Cole collection delivers a new sartorial standard for our customers who look to us for well-made, fashionable essentials crafted in the finest materials available."
NEW YORK (PRWEB) October 26, 2020
This season, Phineas Cole offers luxurious attire for every occasion in the finest materials available including luxurious cashmere, buttery soft deerskin, sumptuous velvets, and warm suede. In a bright color palette, these silhouettes are filled with tailoring details that reference military styles, English Manor homes, and traditional prep schools.
The Fox Hunt Ball collection starts with a modern interpretation of an 1800's English Edwardian town coat in red cavalry twill with a black velvet collar. To be worn while entertaining at home, equestrian style bold tartan plaid jackets pair easily with velvet trousers, round club collar shirts, and English silk ties that feature archival club tie patterns, crests, and regimental stripes. For a strong dash of color, there are Italian cashmere and mohair blend sport jackets with a soft construction and a contrast felt undercollar to pair with cashmere turtleneck sweaters and plaid pants.
Paulette Garafalo, CEO and President of Paul Stuart says, "Everything we offer in our stores is created and designed by us. This new Phineas Cole collection delivers a new sartorial standard for our customers who look to us for well-made, fashionable essentials crafted in the finest materials available."
With a nod to when Britain ruled an empire, the English Manor styles include vintage leather pants with cargo pockets and military-inspired double-breasted greatcoats with an oversized collar in bold green, yellow and red. Creative Director Ralph Auriemma says "These are clothes with silhouettes that are steeped in sartorial history while looking ahead to the future with modern tailoring. The nubby Casentino wool lends itself easily to bold color and a strong silhouette."
Academy is inspired by traditional prep school style in classic English regimental stripes and colors. In the softest cashmere, blazer style sweaters perfectly solve the work from home dilemma of looking polished while staying comfortable. These dress up with a silk vintage inspired club tie. Sporty looks include brightly colored tennis sweaters, boldly striped and solid colored turtlenecks, and shawl-collared cashmere cardigans.
After the sporty tennis sweaters in bright colors, the fox hunt double breasted blazers in tartan plaids, and the horse blanket plaid sport coats, it's time to relax in an extremely soft, velvet jacket. The new Phineas Cole collection features attire for every occasion in luxurious cashmere, buttery soft deerskin, sumptuous velvets, and warm suede.
About Paul Stuart:
Headquartered in New York City, Paul Stuart, Inc. was founded by Ralph Ostrove and named for his son Paul Stuart Ostrove. The store has remained in its original location since opening in 1938. The company designs exclusive collections of men's and women's tailored clothing, sportswear, footwear, and accessories.
Additional stores are located in Chicago on East Oak Street and LaSalle Street, and a third boutique in Washington, D.C.'s City Center shopping district. The company operates additional stores in more than 50 locations throughout Japan. Paul Stuart is privately held by Mitsui & Co., LTD company of Japan.