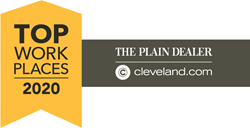 It's exciting to be a part of a culture where everyone is united under a common goal. -Mike Valentine, Binary Defense CEO
CLEVELAND (PRWEB) June 29, 2020
Binary Defense, a leading managed security services provider, has been awarded a Top Workplaces 2020 honor by The Plain Dealer. Winners were selected by evaluating 15 drivers of high performance and engaged cultures that are critical to the success of any organization, including alignment, execution, and employee connection, just to name a few. Binary Defense ranked high in many of these categories, with exceptional ratings indicated for management support and employee approval of overall company direction.
Founded in 2014, Binary Defense is a growing cybersecurity firm that made the 2019 Inc. 5000 list of fastest-growing companies, ranking #1,361 nationally and in the top 30 in Ohio. In 2019, the company added 20 employees, expanding the employee base to just under 100. The organization also moved into a state-of-the-art office building located in Stow, Ohio. "To go from a start-up to a growing and thriving organization in just a few years is a true testament to the employees who believe in our mission to create a world free from cyber threats," said Mike Valentine, Binary Defense Chief Executive Officer. "It's exciting to be a part of a culture where everyone is united under a common goal."
That goal is championed by the company's founder and premier cybersecurity expert David Kennedy, who, along with Valentine, wanted to build an organization to defend companies against hackers trying to steal data and proprietary information. They assembled a team of the industry's top cybersecurity experts to monitor customers' computer networks and help defend against cyberattacks around the clock with their proprietary Managed Detection & Response solution. They can also monitor the leading Security Information & Event Management (SIEM) technologies, analyzing thousands of data logs to determine if suspicious behavior is occurring. Finally, a team of counterintelligence experts combs through and infiltrates the dark web and other online forums to proactively seek out digital and physical threats against customers.
Benefits of working at Binary Defense, in addition to health, dental, vision and 401(k), include an unlimited PTO policy, which stresses the importance of work-life balance. Employees also enjoy free snacks, soft drinks and energy drinks while working in the Stow office. A recently-formed Engagement Committee is rolling out monthly events and contests for the team to participate in, ensuring a stronger, healthier and more engaged culture, even during the pandemic, in which employees shifted to remote work.
In a fast paced and evolving industry, the demand for a cybersecurity skillset will only increase. There is a global shortage of those trained in cybersecurity. Binary Defense provides job opportunities in a growing market and partners with local colleges and universities for training opportunities. "Someone with a cybersecurity background, or someone who wants to learn the industry and contribute to something meaningful can make a real impact at Binary Defense," Valentine says.
###
About Binary Defense
Binary Defense is a managed security services provider and software developer with leading cybersecurity solutions that include SOC-as-a-Service, Managed Detection & Response, Security Information & Event Management and Counterintelligence. With their human-driven, technology-assisted approach, Binary Defense is able to provide their clients with immediate protection and visibility, combating and stopping the next generation of attacks that their business faces. The company is headquartered in Stow, Ohio at 600 Alpha Parkway. For more information, please contact David White at David.White@binarydefense.com.