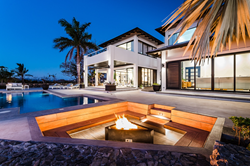 "From a tailored luxury catamaran trip to a helicopter arrival, personal chef, personal trainer and even an on-site masseuse, our guests will be treated like royalty while vacationing in Costa Rica's newest luxury villa all while having the best views in the Guanacaste Province."
TAMARINDO, Costa Rica (PRWEB) November 10, 2021
Located on the most desirable beachfront point in the Guanacaste Province of Costa Rica, The Point Luxury Villa announces its opening today. Dubbed as "One of the Most Unique Luxury Vacation Rentals in Costa Rica," The Point features seven oceanfront bedrooms with charming outdoor patios, a state-of-the-art professional grade kitchen and stunning infinity pool surrounded by picturesque Pacific views. Designed by Richard Muller, one of Costa Rica's most renowned architects, every detail was created to keep guests immersed in the exquisite natural beauty of Costa Rica.
"The Point Luxury Villa is unlike no other vacation rental in Tamarindo. Our goal is to offer our guests personalized, understated luxury and attentive service in a stylish and modern ambience along one of Costa Rica's most beautiful coasts," said Villa Manager, Lindsey Gaston. "From a tailored luxury catamaran trip to a helicopter arrival, personal chef, personal trainer and even an on-site masseuse, our guests will be treated like royalty while vacationing in Costa Rica's newest luxury villa all while having the best views in the Guanacaste Province."
The Stay
Tucked away on a point between two of Costa Rica's most famous white sand beaches, The Point greets you with cascading palms and calming water gardens. Featuring seven luxurious rooms, the Master Bedroom experience is the largest room in the house and has a 270 degree view of the Tamarindo Bay and Langosta Beach. Guests will enjoy a soak in the tub or a refreshing eight spout waterfall shower. Complete with majestic Pacific sunsets, no details were spared from the spacious balcony to the hand carved custom-made four post king bed.
Suites I through V offer oceanfront patios with modern living spaces to luxury art furniture pieces, mini kitchens, indoor and outdoor showers and Moroccan style hanging hammocks. A TV sala and living room oozes luxury with parallel custom-made leather sofas, double sitting chairs and a 60" Television. A state-of-the-art, fully-equipped professional grade kitchen boasts granite countertops, high-end appliances and every culinary convenience. From two moveable bar stations to two wine coolers, a large outdoor BBQ grill, commercial style smoker and small service kitchen, the kitchen is every chef's dream space.
The dining area features ocean views and an impressive custom-made single tree Guanacaste dining table where bellies are fed and conversations are shared. Beautiful palms, fruit trees and a majestic Bizmarck surround the large infinity pool featuring a pool deck with comfortable chairs and wonderfully shady gazebo. A fireplace and light and fire torches surround the pool, creating a magical ambiance during the evening hours.
The Experience
Guests will unwind with ease as The Point's talented team delivers impeccable service, all included in the nightly rate. Included in the stay; dedicated staff members offering daily housekeeping, grounds keeping and 24/7 concierge. Upon arrival, the fridge is stocked to guests' preference, local, fresh breakfast is made daily, luxury linen and towels, Raw Botanicals soap, shampoo, conditioner and body wash are provided, beach gear from chairs and boogie boards are available in addition to a golf cart and full gym with ocean views. Roundtrip airport ground transportation by way of a Mercedes Benz Van is accompanied by a bilingual driver and 24/7 Neighbourhood Security is always on call.
Feeling a little self indulgent? Guests can upgrade to the Limitless Service Package and experience luxurious, top-of-the-line service including a five-star chef offering 24/7 breakfast, lunch and dinner with a full service bar, arrive and depart in style by helicopter or charter plane, a personal driver with up to 12 passengers, a full gym and personal trainer, on-demand massage therapist or a professional full-time nanny at your service. Plus, enjoy a few days away at sea on The Point's 51' PowerCat luxury catamaran with two levels, full wet bar, sun bed, grill, fishing poles, SUPs, surf boards and more.
"We have gone above and beyond to provide limitless service for our guests in one of the most modern luxury villas in all of Costa Rica," said Lindsey. "We are eager to welcome guests and allow them to have one of the most unique experiences in the tropics."
The Point Luxury Villa is available for rent starting today. From couples to families, wedding parties, corporate meetings and more, The Point offers a luxurious, intimate setting for any person or group wanting to experience a true five-star getaway.
Guests seeking reservations at The Point Luxury Villa should visit http://www.thepointluxuryvilla.com, call +506-8702-2925, email ThePointLuxuryVilla@gmail.com or follow The Point on Facebook and Instagram.