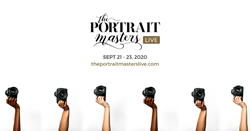 Our all-digital conference will provide an interactive experience that is unique, educational, engaging, and comes at a cost that is sensitive to the current business and economic environment.
LOS ANGELES (PRWEB) July 20, 2020
"The Portrait Masters," the premier online photo education destination created by Sue Bryce, has announced it will use advanced streaming technology to present its first All-Digital, online Conference + Expo, The Portrait Masters Live, from September 21-23, 2020. In the spirit of social distancing practices, this year's conference will be presented as a unique online learning experience using multi-channel broadcast programming for three full days of photographic learning, competitive shootouts with world class photographers, daily keynotes, manufacturer's product expo, and remote social events to network with friends and industry influencers. All components of the conference and expo will be seamlessly streamed from studio locations all over the U.S. and hosted by Sue Bryce and Nikki Closser live from the Sue Bryce Education studios in Los Angeles. The $299 fee will provide viewers with complete access to the three-day education conference. The manufacturer's product expo, presented by B&H Photo, will be available as a free stream to everyone through a dedicated broadcast channel.
"So many thoughts ran through our heads as we discussed whether to move forward with this year's conference," explained Sue Bryce. "Most importantly were our thoughts for the health and well-being of our friends in the photo community and elsewhere. Obviously, the need for social distancing played a role in our decision, but we also knew that jobs were lost, bookings were cancelled, and finances were tight. By using our unique streaming platform, combined with an amazing lineup of instructors and online social events, we believe our all-digital conference will provide an interactive experience that is unique, educational, engaging, and comes at a cost that is sensitive to the current business and economic environment."
Each day, The Portrait Masters Conference begins with an inspirational keynote presentation from an industry icon, followed by a full day of learning including classes from world-class educators, competitive shootouts, hourly giveaways totaling more than $100,000 in products and services, a product expo complete with demo stage highlighting the most advanced technology available today, and a special photo shootout featuring world class ambassadors from Canon, Profoto, and Sony. In addition, Fuji will host portfolio reviews for participants (registration is required). Throughout each day, social networking events will allow participants to chat with instructors, organizers, and each other. The conference concludes each day with a virtual Happy Hour to share the days' events and activities in an open forum.
"As online communications and information sharing has increased lately, we looked at the process others were using to engage remote audiences and felt we could do a much better job," explained George Varanakis, founder of The Portrait Masters Conference. "We believe that our first, all-digital virtual conference will be a great interactive experience for our participants, educators, and sponsors."
Conference Schedule and Activities
Keynote Presentations
The Portrait Masters Conference has secured three industry icons to present the daily keynote each morning. Their work and words of wisdom will inspire and energize participants as they begin a new day of interactive learning from many of the world's top photographers and educators.
Mark Seliger is an icon in the world of rock and roll photography and portraiture. His photos have graced more than 100 covers of Rolling Stone magazine and his portraits of musicians and celebrities alike have brought the personalities of his subjects to the surface for all to see.
Sponsored by Sony
Tabatha Coffey, host of Bravo TV's popular business makeover show, Tabatha Takes Over. Now in its fifth season, "Tabatha Takes Over" follows Ms. Coffey as she travels the country to help struggling business owners turn around their lives and businesses. Her signature edgy style, tough love approach and exceptional skills as an artist and businessperson earned her the title of Most Addictive Reality Star at the recent NewNowNext Awards.
Trista Smith is the owner of Reclamation, a special dress design company that takes the heart and soul of every woman and brings it to life in the form of the perfect, one-of-a-kind dress. Customers are encouraged to help with the design, from beginning to end. Trista will share the inspiring ways she builds relationships with her customers resulting in the perfect dress to match their inner soul.
Sue Bryce will present the keynote to close the three-day conference. As she summarizes the activities of the past three days, her encouraging words will fill participants with a new level of creative energy and inspire them to take their careers to the next level of success.
Extensive Seminar Lineup
At the heart of all activities are three full days of extensive learning with a team of international photographers and educators. The conference will be co-hosted by renowned portrait photographer and conference co-founder, Sue Bryce, and internationally acclaimed portrait photographer and host of The Portrait System podcast, Nikki Closser. Seminars will be streamed over four different broadcast channels and cover a variety of creative, technical, and business topics including lighting, posing, retouching, marketing, and sales, to name just a few. And, thanks to the advanced streaming technology provided by Stage10x, The Portrait Masters Conference will be able to stream classes from locations all over the U.S. to honor social distancing practices and avoid unnecessary travel by its instructors.
During the conference, more than 20 renowned photographers and educators will present the latest photographic techniques and business practices during one-hour, in-depth classes. The list of instructors is a venerable Who's Who in photographic education including Jerry Ghonis, Pratik, Peter Hurly, Susan Stripling, Kesha Lambert, and Lara Jade, to name a few. For a complete list of instructors, visit The Portrait Masters Live Website.
Competitive Shootouts
What would you create in 30 minutes if you had access to a model, some lighting, and a few props? And how different would your images be from other photographers given the same parameters? Well, renowned ambassadors from Canon, Profoto, and Sony will find out when they have an opportunity to create their unique style of imagery using a single model and identical lighting gear and props. During a two-hour timespan each day, ambassadors from each company will work within the boundaries of limited tools and a 30-minute deadline.
There likely will not be any losers in this competition, but the true winners will be viewers who witness how world class photographers create different, but uniquely beautiful images using the same tools in a limited timeframe. These shootouts will instill the idea that possibilities are only limited by the imagination, but its educational value is priceless.
Manufacturer's Product Expo
The Conference Expo, presented by B&H Photo, will also take advantage of advanced streaming technology to present the latest in imaging hardware, software, and accessories through a series of Zoom Rooms located at its flagship store in midtown Manhattan. Manufacturers who are unable to travel to New York will present their products and services on the expo's demo stage and streamed from around the country. In addition to getting a close-up look at new technologies, viewers may also have access to special pricing on select products and services. The expo will be available as a free stream to everyone through a dedicated broadcast channel.
Networking and Giveaways
Networking with industry leaders and among peers has been the cornerstone of The Portrait Masters Conference since its inception. The importance of sharing thoughts and ideas with others in formal and informal environments remains a critical aspect of this year's all-digital online conference. Throughout each day, networking opportunities will be presented for all participants to interact with instructors, organizers, and each other. And, at the end of each day, virtual Happy Hours will give everyone an opportunity to kick back with a snack and favorite beverage, and reflect on the days' learnings and offer commentary in an environment that is casual and fun.
Everyone loves to win something, which is why The Portrait Masters Conference will be giving away more than $100,000 in products and services from dozens of industry sponsors. Each hour throughout the conference, names will be drawn from the list of registered attendees.
Virtual Dance Party
Put on your dancing shoes and let's get this party started! During The Portrait Masters' Virtual Dance Party, participants can dress as their favorite heroes and dance the night away with industry friends from around the world.
#TPMLIVE2020
Facebook
Instagram
# # #