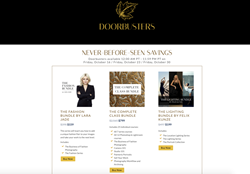 It has been a tough year for every industry, photography included, and we hope this sale, our biggest one to date, helps as many people as possible while they're pivoting their businesses -- George Varanakis
LOS ANGELES (PRWEB) October 16, 2020
It's OK. You can say it: 2020 sucks! And we still have 2 ½ months to go (plus the extra hour we have to give back, which just seems cruel). It's certainly no secret that 2020 has been challenging for everyone, but at least two outstanding events are coming out of this disappointing year. First, the Portrait Masters conducted the most innovative, interactive and educational online conference ever presented via the internet. And Second, starting today, The Portrait Masters is announcing its massive Black Friday in October sale. Why? Because November 27 is too damn far away, and we need some good news now! While 2020 has not been a good year for booking jobs, it has been a good opportunity for photographers to learn through online education and position themselves for success in 2021. Making their educational programming available to photographers sooner rather than later simply allows additional time to prepare for better days and successes ahead.
Thanks to The Portrait Masters' Black Friday in October sale, photographic education has never been more affordable than right now. From October 16 through October 31, photographers will save 50% on individual classes and as much as 68% on bundled doorbuster specials available each Friday, beginning today. These and other Black Friday in October specials can be found on The Portrait Masters' online store.
"We wanted to make sure we were able to offer as many photographers and digital creators the tools they need to finish 2020 strong — and at an affordable price," explains George Varanakis, Co-founder of The Portrait Masters. "It has been a tough year for every industry, photography included, and we hope this sale, our biggest one to date, helps as many people as possible while they're pivoting their businesses."
Co-founded by Sue Bryce, renowned portrait photographer and educator, The Portrait Masters offers the most comprehensive selection of online classes presented by some of the world's most renowned and successful photographers and teachers, including Lara Jade, Felix Kunze, Michele Celentano, Patik Naik, Kara Marie and Zack Arias. Each class includes hours of video instruction and document downloads for additional reference. All videos and instructional content can be completely downloaded and archived.
Beginning today, photographers will save 50% on the following top-selling classes at The Portrait Masters store:

The Location Lighting Series
The Lighting Series
The Fashion Series
The Retouching Series
The Business of Photography
Painterly Portraits
The Boudoir Series
The Boudoir Bundle
Additional 40% discounts will be available on other classes, as well as presets, textures, posing cards, guides, music or templates found at The Portrait Masters store (discounts do not apply to gear and hardware).
In addition to daily discounts throughout October, The Portrait Masters will host special doorbuster discounts only on Fridays during the month, beginning today. Doorbuster discounts give photographers an opportunity to purchase complete bundles, including:
The Lighting Bundle — $159.00
Includes The Location Lighting Series and The Lighting Series with Felix Kunze

The Fashion Bundle — $159.00
Includes The Fashion Series and The Business of Fashion Photography with Lara Jade
The Complete Class Bundle — Entire E-Learning Catalog — $999.00
Includes Photography, Photoshop and Lightroom classes (25 total).
The bundle does not include presets, posing cards, music, gear or templates.
"During our virtual conference in September, we heard firsthand the impact this pandemic is having on photographers around the world," explained Sue Bryce. "This gave us reason to pause and explore ways we could help them prepare for brighter days ahead and encourage them to keep pushing forward. Photographers have an insatiable appetite for learning, as evidenced throughout our three-day digital conference, and offering our library of digital classes at steep discounts now was an easy decision to make."
# # #