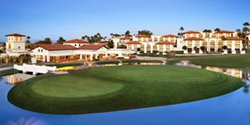 This year's lineup of world-class instructors will make 2019's Conference and Expo a memorable experience for everyone -- Sue Bryce
LOS ANGELES (PRWEB) February 19, 2019
"The Portrait Masters," the premier online photo education destination created by Sue Bryce and Digital Product Studio, has announced that registration is now open for its 3rd annual Conference + Expo at the Arizona Grand in Phoenix Arizona from September 3-6, 2019. The conference will be limited to 600 attendees and event organizers expect a sellout within the first three weeks of registration. The conference will include three days of photographic instruction by an acclaimed team of international photographers and educators led by renowned portrait photographer and conference co-founder, Sue Bryce. Tickets to attend the conference are $1,800.
Attendees will receive some of the most intense professional training and education available outside a traditional classroom. A variety of "open shoots" and photo bays will allow attendees to put what they've learned into immediate practice. Catered meals and after-hour events will allow for networking, socializing and fun. Seminars will cover a variety of creative, technical, and business topics including lighting, posing, retouching, marketing, and sales, to name just a few.
"Last year's conference was an over-the-top success and we are very excited to announce our 3rd annual conference here at the beautiful Arizona Grand Resort," said Sue Bryce, co-founder and host of The Portrait Masters Conference and Expo. "What made last year's event perfect was the special combination of people, location, learning, and a true sense of community. This year's lineup of world-class instructors will make 2019's Conference and Expo a memorable experience for everyone attending."
"The day after last year's conference we began speaking with attendees to help us refine, modify, and perfect every aspect of an already incredible learning experience for our guests," explains George Varanakis, co-founder of Digital Product Studio, which specializes in creating digital educational products through online communities and membership sites, including The Portrait Masters and its annual Conference + Expo.
"With The Portrait Masters Conference and Expo, we want to provide an exceptional experience. Attendees will become completely immersed in their craft for three full days, be inspired through workshops presented by world-class photographers, meet and relax with other creative pros including Sue Bryce and her staff, speak with reps from the industry's leading equipment manufacturers and receive personal demos of the latest in imaging technology."
For those unable to attend the conference, Digital Product Studio's advanced Internet platform technology will offer live streams of new product demos directly from the conference Expo. Seminars, workshops, and keynotes will also be available through The Portrait Masters, a subscription-based education website.