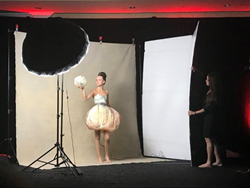 Creating a live, intimate environment allows attendees to immerse themselves into the classes, participate in deep-thought discussions, and use our social activities as fabulous networking opportunities.
LOS ANGELES (PRWEB) August 01, 2019
The Portrait Masters, the premier online photo education destination created by Sue Bryce and Digital Product Studio, has announced its lineup of world-class presenters and instructors at its annual Conference + Expo at the Arizona Grand in Phoenix Arizona from September 3-6. Internationally renowned photographer, Peter Lindbergh, will present the conference keynote. Lindbergh is credited with pioneering a contemporary approach to fashion photography by exposing the natural beauty of his subjects and reducing "post-process perfectionism." In addition to Lindbergh's keynote address, attendees will receive an intense and inspirational learning experience from many of the world's most respected photographers and educators including Mark Seliger, Lara Jade, Matthew Jordan Smith, India Earl, and Tony Carter, among others. Live shooting bays, manufacturer's expo, and evening social events round out an incredible 3-days of intensive learning in a beautiful setting.
"Our lineup of instructors this year is exceptional and everyone attending can expect to leave with an unforgettable learning experience that is simply not available outside a formal classroom," explains Sue Bryce, renowned photographer, educator, and co-host of the conference. "Creating a live, intimate environment allows attendees to immerse themselves into the classes, participate in deep-thought discussions, and use our social activities as fabulous networking opportunities."
In addition to learning the latest lighting, posing, and shooting techniques from world-class educators, attendees will be able to put their new learnings into immediate practice through the use of numerous "shooting bays" throughout the conference, see the latest industry technologies at the manufacturer's expo, and network with photographers and instructors from around the world throughout the day and during after-hour social events and activities.
The Portrait Masters Conference + Expo is limited to 600 participants to maintain the hands-on, intimate experience organizers wanted to establish for attendees More than 50 manufacturers of cameras, lenses, software, and accessories will be on hand to demonstrate their newest products and services throughout the three-day conference. Canon, Sony, Tamron, The Mac Group, Alien Skin, and Tether Tools are among the companies demonstrating their products and services.
And, thanks to Digital Product Studio, a developer of innovative and highly advanced Internet streaming technology, viewers worldwide can tune-in to see live demos from the Expo. A special staging area will be established for manufacturers to speak directly to online viewers to share information and features about their products and services. Through a special link, online viewers will be able to place orders directly through B&H Photo's website and take advantage of special discount offers during the conference.
To learn more about The Portrait Masters Conference + Expo, visit their official website.
About the Instructors
Sue Bryce
Sue Bryce is one of the most recognizable photographers in the imaging industry. Her glamour, fashion and portrait style transcend past stereotypes and has changed the face of portrait photography.
She created Sue Bryce Education, a ground-breaking educational platform that uses her signature techniques to educate photographers and empower businesses internationally. Sue was awarded the WPPI International 2014 Grand Award, received the Australian Portrait Photographer of the Year honor in 2011 and 2012, and Fellow II National Awards Photographer of the Year in 2007, among others.
Tony Carter
Tony Carter trained as professional portrait photographer with Margaret Bake in New Plymouth (New Zealand) from 1991-1995, and is where he currently resides and runs his own studio. He has won numerous industry awards and has Six times been named New Zealand Professional Photographer of the year (2000, 2003, 2004, 2005, 2010 and 2018. In 2010 he was also named the first Grand Master of Professional Photography by the NZ Institute of Professional Photographers. His work has been exhibited around the world.
India Earl
India is an award-winning international wedding and "couples" photographer widely known for the connection, emotion, and landscapes she captures in her images. She is a self-taught photographer who began shooting at 14 years old and now teaches thousands of photographers around the world. She is currently based in Salt Lake City, Utah.
Lara Jade
Lara Jade first picked up a camera at the early age of fourteen – influenced by self-portraiture and conceptual photography. After graduating college, she made the move to London, where she naturally felt the transition to fashion photography. A couple of years later – she embarked on her first trip to New York and never looked back, currently residing in Brooklyn.
Over the past 9 years Lara has been teaching fashion photography through her in-person workshops and seminars. Her online workshop 'The Fashion Series' was launched in October 2018 through The Portrait Masters and has helped many photographers find their photographic style and understand the importance of adding a fashion flair to their work.
Peter Lindbergh
Known for his memorable cinematic images, Peter Lindbergh is recognized as one of the most influential contemporary photographers in the world. Prior to graduating from the College of Art in Krefeld, he was invited to present his work, largely influenced by Joseph Kosuth and the Conceptual movement, at the renowned avant-garde Galerie Denise René – Hans Mayer in 1969.
After moving to Düsseldorf in 1971, he turned his attention to photography and worked for two years assisting German photographer Hans Lux, before opening his own studio in 1973.
Considered a pioneer in photography, he introduced a form of new realism by redefining the standards of beauty with timeless images. His humanist approach and idealization of women set him apart from the other photographers and he drastically changed the standards of the fashion photography in times of excessive retouching. He is the first photographer to include a narrative in his fashion series, bringing a new vision of art and fashion photography to the world.
His work is part of the permanent collections of many Fine Arts museums around the world and has also been shown in prestigious museums and galleries including the Victoria & Albert Museum (London), the Metropolitan Museum of Art (New York), and solo exhibitions at Hamburger Banhof (Berlin), Bunkamura Museum of Art (Tokyo) and the Pushkin Museum of Fine Arts (Moscow).
Lindbergh has directed a number of critically acclaimed films and documentaries including Inner Voices (1999) which won the Best Documentary Prize at the Toronto International Film Festival (TIFF) in 2000.
Mark Seliger
Mark Seliger was Rolling Stone Magazine's Chief Photographer from 1992-2002, where he photographed over 150 covers. He spent the next 11 years under contract with Condé Nast publishing and today shoots frequently for Vanity Fair, Italian Vogue, Harper's Bazaar, Elle, and others. His advertising clients include Adidas, Anheuser-Busch, Levi's, McDonald's, Netflix, Ralph Lauren, Ray-Ban and many more.
He is the recipient of the Alfred Eisenstaedt Award, Lucie Award, Clio Grand Prix, Cannes Lions Grand Prix, The One Show, ASME, SPG, and the Texas Medal of Arts Award. Seliger's work has been exhibited in museums and galleries around the world and part of the permanent collections at the National Portrait Gallery at the Smithsonian Institution in Washington, D.C., the Museum of Fine Arts in Houston, and the National Portrait Gallery in London.
Elena Shumilova
Elena is internationally known artist who specializes in children and family photography. Currently based in the Russian countryside, her photos have been featured in dozens of publications including Digital SLR Magazine, Practical Photography, SLR Lounge, and My Modern Met. Elena's pictures and videos have also been used by Vodafone and Petcurean advertising campaigns, book covers and a selection of postcards in the U.K., Germany, and USA.
Matthew Jordan Smith
For more than 30 years, Matthew has been known for his portraits of celebrities and actors including Oprah Winfrey, Halle Berry, Jennifer Connelly, Martha Stewart, Aretha Franklin and Samuel L. Jackson, to name just a few. He has numerous magazine covers, advertising campaigns, and editorial assignments to his credit, along with an abbreviated client list that includes Olay, Pantene, Revlon, Sony Entertainment, HBO, and Showtime.
His love of photography has inspired several personal projects including three published books including Sepia Dreams, Lost and Found, and Future American President: 50 States, 100 Families, Infinite Dreams. He is the recipient of several awards and honors, including the Microsoft Icon of Imaging Award, The George Eastman Power of Image Award and the Vision Award. Matthew divides his time between New York, Los Angeles and Tokyo.
Dayron Vera
A former Principal Dancer at the National Ballet of Cuba and then with Angel Corella's dance company in Spain, Dayron discovered photography while taking pictures of fellow dancers and realized photography offered a creative way to present portraits of dancers. The rare opportunity to have been on both sides of the camera has allowed Dayron to present his subjects in a manner that is unique, heartfelt, and innovative.