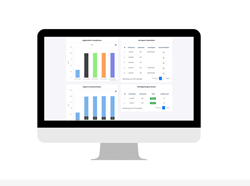 The Potentia Health Registry gives school administrators a daily dashboard so that the policies and procedures they created for COVID-19 can be monitored and adjusted with real-time data.
HOUSTON (PRWEB) October 20, 2020
Potentia, a social enterprise dedicated to enabling organizations to accelerate growth and innovation by leveraging neurodiverse talent and solutions, is proud to announce the Potentia Health Registry (PHR), a secure, customizable technology platform for monitoring the presence of COVID-19 symptoms, exposure and testing for schools, businesses and communities looking to reopen successfully. Gateway Academy, a Houston-area private school for students with learning differences, is using the Potentia Health Registry as part of their COVID-19 response strategy. The platform is now available nationwide.
"Educational institutions need to reopen successfully while minimizing risk for students and staff," says Shawn Fry, CIO of Potentia. "The Potentia Health Registry gives school administrators a daily dashboard so that the policies and procedures they created for COVID-19 can be monitored and adjusted with real-time data."
PHR is a SaaS-based platform that allows individuals to be part of the response to COVID-19 through an easy-to-use mobile app. It is HIPAA and FERPA-compliant, so all data can be completely safe and protected. Parents can log symptoms for their children each day in about two minutes. The platform is customized for each school's policies, and communication tools enable real-time messaging and notifications. "Data is analyzed to monitor trends by grade or class," adds Fry. "Until we have a vaccine, data is our best defense."
"For Gateway Academy, the Potentia Health Registry meets students and staff before they enter the school building," says Michele Joseph, MEd, Founding Head of School. "We are using data to be proactive and to better understand the risk of COVID-19 within the school community."
"We are one of the few schools in our peer group that is fully open for in-person instruction, and PHR is a big reason we are able to do so," adds Joseph. It allows us to assess and manage this complex and fluid situation in real-time, so our staff is not taxed with additional jobs. It was very easy to implement and integrates with our exist attendance system."
"Sending our kids back to school in this current situation is stressful," says Jennifer Cristini, a parent at Gateway Academy. "Knowing Gateway has taken additional steps is reassuring, as I know they are being as proactive as possible."
###
About Potentia Workforce:
Potentia Workforce is a Texas-based social enterprise dedicated to connecting organizations with neurodiverse talent and solutions. The Potentia Health Registry was developed during the pandemic to help municipalities, schools and businesses looking to reopen successfully. For more information visit https://education.potentiahealthregistry.com/