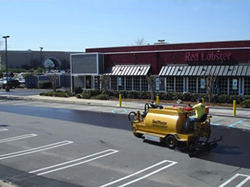 "The future is unpredictable and as business owners, we have to be cautious about where we are investing our time and resources to achieve the best returns on our investments."
CHARLOTTE, N.C. (PRWEB) December 04, 2019
As a business owner, it's easy to get caught up in the daily operations of your business. While this is important, to be a successful business owner, it is equally important that the proper time and resources are invested in the long-term growth of your company. Budgeting helps with this. No one wants to invest largely in a project and then reap very little return on their investments. That just isn't smart business! Whether the business is in the restaurant, retail, real estate or any other commercial industry here is how RAM Pavement's Proven Process can help with proper asset management.
What is the Proven Process all about?
The future is unpredictable and as business owners, we have to be cautious about where we are investing our time and resources to achieve the best returns on our investments. Not everyone will share the same vision for responsible asset management when it comes to managing the pavement. In all respects, it is simply not a day's job of hot mixing and pouring and drying. There is a lot that goes into the process of pavements and property managers and business owners need to know that their clients are safe and that they do not end up with unnecessary costs after a few months of their pavement completion. This is why the 'proven process' was designed. The goal at RAM Pavement is to be so much more than an asphalt and pavement services company. Our proven process creates value for our clients by taking your paved asset from unpredictable to future-proof.
With detailed planning and strategic considerations factored in, the proven process can basically be summed up in five steps:

RAM Pavement believes that any good relationship starts with an understanding of people and their roles in the process. When it comes to 'paved asset', it takes the time to listen to the needs and goals of their clients. Needs and goals may vary from business to business and their aim is to understand who will be using the pavement. One of the first things they do is perform a walk-through. Their team will carry out an in-person assessment, the goal being to pinpoint areas of improvement and vulnerabilities. The pictures and notes they take on-site help their team to better advise their clients and prepare for the upcoming work.
At RAM Pavement, they like to dot the Is and cross the Ts. From the total cost of ownership over a 10-year period to the day of service considerations such as traffic flow around a closed area of pavement, they outline everything!
Time is money! This is especially true when scheduling pavement jobs for maximum efficiency and profit. The team at RAM Pavement has been in the pavement industry for more than ten years now and they understand the importance of this. Pavement jobs are affected by temperatures and weather among other factors and they take this into consideration when setting deadlines for their clients. Scheduling meetings are done on Thursday mornings. Everyone on the team gets briefed and then their crews and customers fully prepare for the following week's work. Adjustments can be made to the schedule to incorporate a cancellation or a missed meeting, leaving space and time for perhaps another meeting set for a later date. The result of their process is a job schedule that is a "living, breathing, logistical work of art," which allows everyone to save time and money.
The day is finally here! On arrival, cones and barriers are carefully placed by their team. This is to ensure that no one goes to the work area and potentially get injured. Their team of experts works quickly to patch and seal areas in need and coat and paint finished surfaces.
The job is not done until all of the loose ends are tied up. At RAM Pavement, the team members are trained on focusing on the last 5%. Have the cones been picked up? Are the curbs and drains cleared? Has the business owner or key stakeholder been communicated with? Has the work been validated? The last 5% focuses on quality assurance on a wider scale. This is the service they always strive to provide.
Extend with P3 - Prevention Through Proactive Prevention
Consider this, how long do you expect your pavement to last? Ten years? Twenty years? Perhaps twenty-five years? The most critical element of a paved asset is extending its life. RAM Pavement has a proprietary cloud-based management portal to keep track of every action taken on their client's property by their team. In fact, upon completion of the work, they provide a maintenance plan complete with projected dates and projected costs. Organization and periodic checkups from their EXTEND team ensure all paved asset is safe and sealed so there are no unpredictable costs.
Their people and their process make a difference for all the clients they serve. They carefully consider all of the factors, giving you a comprehensive and cost-effective plan for your paved asset. RAM Pavement has completed jobs for clients, not only in Charlotte and the surrounding counties but also with business owners and asset managers in Wilmington, Charleston, Columbia, Greensboro, Raleigh, Statesville, and Greenville-Spartanburg. You can call (704) 622-1300 to learn more about the proven process.