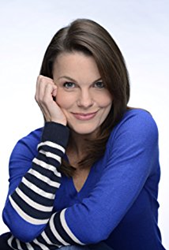 Lisa Stewart describes Zane as a "ray of sunshine who is full of joy."
HUNTSVILLE, Ala. (PRWEB) November 29, 2018
The PTEN Hamartoma Tumor Syndrome Foundation is thrilled to announce Lisa Stewart as it's National Spokesperson. The PTEN Foundation recently collaborated with Lisa Stewart and Rep Interactive to produce the foundation's first awareness commercial which will be officially released later this week. PTEN Hamartoma Tumor Syndrome is a rare yet underdiagnosed hereditary cancer syndrome putting patients at high risk of developing breast, thyroid, kidney, colon and endometrial cancer, as well as melanoma. Some patients are also affected by autism or developmental delay. Kristin Anthony, President of the PTEN foundation, stated that "Lisa is an amazing talent and uniquely qualified to deliver our message. We are grateful for her willingness to give back and make a difference for Zane, PTEN patient featured in the PSA and all who are affected by PHTS."
Lisa Stewart is an American singer, actor, songwriter and voice talent. She recorded for BNA Entertainment, a division of RCA Records, and has shared the screen with Academy Award winners Gwyneth Paltrow ("Country Strong") and Melissa Leo ("Novitiate"). She penned BMI's "Gospel Song of The Year" which was recorded by Reba McEntire. Lisa is currently on tour with guitar icon and country blues artist, Lee Roy Parnell and recently appeared on the Property Brothers.
Lisa is a lifelong friend of Sylvia Pooley who is the mother of Zane. Mrs. Pooley honored Lisa asking her to share Zane's remarkable journey to help raise awareness and funding for the genetic syndrome. Lisa's perfect account of Zane's journey will touch many lives. Anthony believes that Lisa's desire to give back coupled with the Pooley's willingness to share their journey is appreciated and well received by our patient community. Lisa is excited to serve the PTEN community and stated that "Kristin Anthony has not only been victorious over cancer three times, but she is also championing the cause for the Worldwide PTEN community. Because of her efforts and others donating their time and resources, we hope to provide a better lifestyle for those suffering from this genetic mutation, to save lives and find a cure. I'm beyond grateful to be a small part of educating people about this rare disease." Lisa Stewart describes Zane as a "ray of sunshine who is full of joy." Lisa stated that she "is thrilled to support Zane, and all who are affected by this genetic syndrome."
The PTEN Hamartoma Tumor Syndrome Foundation was founded to find treatments or therapies for PTEN Syndromes by funding research, providing PHTS education, supporting patients, and by raising awareness. PHTS includes Cowden syndrome (CS), Bannayan-Riley-Ruvalcaba syndrome (BRRS), PTEN-related Proteus syndrome (PS), and Proteus-like syndrome.
The Foundation's vision is to connect families, researchers and collaborate for a cure.