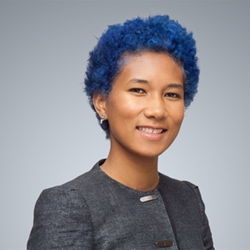 "Passion and tenacity like Conde's are certain to help our country become a better place for those who aren't in the position to advocate for themselves."
LOS ANGELES (PRWEB) February 16, 2019
The Reeves Law Group, a nationally-recognized Personal Injury law firm in California, has selected Djenab Conde, UC Berkeley, School of Law, J.D. Candidate 2019, as the recipient of its 2018 Scholarship. Conde will receive $3,000 to use for tuition and education-related expenses.
The 6th annual Future Lawyer Scholarship was created as an opportunity to give law students monetary assistance so they can complete their law degree and look to help the less fortunate through the legal system.
Conde's essay was a powerful explanation of her background and heritage, as she grew up in China, Guinea, Mali, Côte d'Ivoire, and France before moving with her family to the United States. The daughter of black and Chinese immigrants, Conde has always had a passion for advocating for those from diverse and disenfranchised backgrounds. She worked in Morocco with GlobalGirl Media to teach women and girls about how they can use new media and videojournalism to tell their own stories.
"We selected Djenab Conde because of the way she used her diverse background and passion to advocate for the voice of others around the world," said firm founder Robert Reeves. "Passion and tenacity like Conde's are certain to help our country become a better place for those who aren't in the position to advocate for themselves."
After coming back to the United States, Conde's passion for giving a voice to those who need it has continued. She served as the Co-President of the Law Students of African Descent (Berkeley's Black Law Students Association), amongst other roles throughout campus. Through recruitment efforts and work with the Berkeley Law admissions and administration office, the organization helped bring in the largest 1L class of Black students since affirmative action was banned in California.
"As the daughter of immigrant parents in a mixed family (my mom is Chinese and my dad is from Guinea), it always means a lot to have my achievements recognized by a scholarship like the Reeves Law Group scholarship," Conde said. "The funds will support me in the coming months through graduation and bar study prep before I start working first for the Honorable Victor Bolden of the District of Connecticut, and in the following year for the Honorable Paul J. Watford of the Ninth Circuit Court of Appeals."
Reeves Law Group applauds Conde on her achievements and wishes her luck on the bar exam, as well as her promising future as a lawyer. For more information and to apply to The Reeves Group Scholarship, which has increased to $5,000 for 2019, please visit https://www.robertreeveslaw.com/scholarship/.
About The Reeves Law Group:
The Reeves Law Group is a personal and accident injury law firm based in Southern California with over twenty-five years of experience. It has won millions in jury verdicts, and its attorneys have been rated top practitioners in the field of personal injury by Newsweek, Super Lawyers, the National Trial Lawyers Associations, and many others. For a free case review call 800-644-8000 or visit them online at https://www.RobertReevesLaw.com.