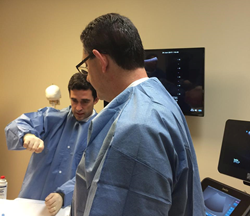 The Regenerative Medicine Training Institute is a unique hands on training that is unmatched!
JUPITER, Fla. (PRWEB) August 01, 2018
Clinical Training for Regenerative Medicine Procedures dedicated to "YOU" the staff NP, PA's, RN's, LPN's, MA's and Administrative staff.
This full day course is an interactive day with lectures, demonstrations, and hands on processing of all the biologics. The course will expose your staff to regenerative medicine procedures and processing techniques, and facility providing them with skills that will be an asset to the practice and patients. Educate your team to be a step above the rest!
November 3, 2018
Hands-On Orthobiologics Training -Techniques and Procedures for Stem Cells and Adipose Aspiration and Procedures
This one-day course will expose you to essential skills and knowledge needed for Stem Cells and Adipose procedures to enable you to offer additional Biologic treatment options to your patients. A full hands-on training course
Featured faculty:
Faculty:
Joseph Purita, MD., A Board-certified Orthopedic Surgeon, and a pioneer in the use of Stem Cell and PRP therapy for orthopedic conditions. Dr. Purita has lectured internationally on five continents regarding the healing effects of stem cells and has been instrumental in helping some countries design their policies concerning the use of regenerative medicine; effectively bringing this unique and advance practice to more practice throughout the world. Dr. Purita's passion lies in teaching and advancing regenerative medicine techniques and procedures that improve patients' lives.
Paul D. Tortland D.O., - Dr. Tortland is the founder and Medical Director of the New England Stem Cell Institute and of Valley Sports Physicians & Orthopedic Medicine, both located in the Hartford, CT region. He specializes in sports medicine, non-surgical orthopedics, and regenerative medicine. Dr. Tortland was literally the first person in the world to become certified in Regenerative Medicine by the American Academy and Board of Regenerative Medicine, also scoring the highest on the certifying exam. He was also the first person in New England to begin performing both PRP and stem cell injections in 2007 and 2008, respectively. Also, he has been doing Prolotherapy for over 23 years.
Ghislaine Robert, MD., Dr. Ghislaine Robert is a board-certified sports medicine physician with over 25 years of experience treating elite and recreational athletes. Dr. Robert began her career in Montreal Canada, now operating a Sports Medicine practice in Redmond Washington. Dr. Robert specializes in minimally invasive regenerative medicine, performing ultra-sound guided platelet-rich plasma injections, micronized fat (adipose) injections and bone marrow-derived stem cell procedures to alleviate pain and promote tissue regeneration and healing. "My goal is to help patients to be and to stay physically active. That's the best health insurance you can have!" – Dr. Robert
To learn more about RMTI and its educational program's, visit:
https://rmtinstitute.com or phone toll-free (800) 367-0844
Register Today