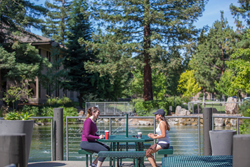 "Shadelands is place where careers can be built. When kids come back from college, they can get a job, and build a career, and stay in Walnut Creek. That's where we're headed." Jay Hoyer, President & CEO, Walnut Creek Chamber of Commerce & Visitors Bureau
WALNUT CREEK, Calif. (PRWEB) January 14, 2020
As recently as 2014, the 40-year-old, 267-acre Shadelands Business Park in Walnut Creek, California, in San Francisco's East Bay, was rife with empty parking lots surrounding empty office buildings that faced vacancy rates upwards of 30%. Within five years, through collaboration, commitment, shared vision, and good old fashioned hard work, Shadelands was transformed into a vibrant community hub—a business and lifestyle center—that had reimagined the possibilities of what an office park could be. Today vacancy rates at Shadelands are down to the mid to high teens as an influx of experimenters and entrepreneurs stake their claim to build something new.
Shadelands has become home to a diverse mix of community needs including high-tech urgent care, green manufacturing, pet therapy for veterans, craft brewers, and the Shadelands SportsMall, a massive 215,000-square-foot sports training super center that offers a variety of athletic training options on a scale rarely found in the United States. The SportsMall hosts soccer, baseball, swimming, volleyball, martial arts, yoga, and a premiere basketball training facility that draws the likes of NBA Champion Steph Curry.
In 2012, a ten-member Shadelands Steering Committee, made up of Shadelands property owners, worked together with the Walnut Creek Chamber of Commerce and City of Walnut Creek with a mission to improve Shadelands' business climate, communication, amenities, aesthetics, value, and brand. The formation of the Shadelands Property & Business Improvement District (PBID) in 2014 was a seminal moment in the business park's transformation, when a majority of the 70+ property owners agreed to assess themselves to fund the changes needed to turn Shadelands around.

To address security issues, overnight parking was dramatically limited and a Walnut Creek Police Department field office was established in Shadelands.
To address accessibility, a free shuttle was established to link employees and visitors between Pleasant Hill BART (Bay Area Rapid Transit) and Shadelands. Ridership continues to soar since the #7 County Connection bus launched in February 2015, with more than 125,000 riders in 2019, significantly reducing daily CO2 emissions.
More flexible zoning regulations advocated by the PBID and approved by the City of Walnut Creek have given Shadelands the ability to be forward looking, adapting to trends, new industry definitions, and entrepreneurial spirits. Hotels; skilled nursing facilities; advanced medical technologies; horticultural uses; public and private schools; artists' studios; dining and drinking establishments; and health clubs are examples of businesses and land uses now permitted in Shadelands.
In 2014, the first five-year PBID vote passed by an impressive 75%; in 2019, the ten-year renewal vote passed by a remarkably affirming 90%. Within five years, the transformation has been remarkable in speed and achievement. "I had dreams of what Shadelands could become, but I had no idea it would become as large, as diverse, as successful as it is, and in such a short amount of time," said Angela De La Housaye, Chair of the Shadelands PBID Steering Committee. No longer the old and tired business park, Shadelands is now a dynamic business and lifestyle destination—a place where people work, play, shop, exercise, and socialize.
BASS Medical Group debuted its multi-million dollar, hi-tech Advanced Urgent Care, Imaging, and Lab complex in June 2019.
Contra Costa School of Performing Arts, a pre-professional experience in performing arts within a college and career preparatory setting, opened next to award-winning Quick Mount PV, a certified green manufacturer of mounting and racking systems for residential rooftop photovoltaic solar panels.
Radicle Health, a management services organization, provides cannabis education, advocacy, and access to cannabis patient care.
Calicraft Brewing Co. brewery and taproom pours California-inspired beers with an outdoor garden and patio.
Tony LaRussa's Animal Rescue Foundation has broken ground for its 7,893-SF Pets and Vets Center, an innovative program that transforms rescue dogs into skilled service animals for veterans.
The Orchards at Walnut Creek, a 25-acre rebuilt, redeveloped, and reconceived retail and lifestyle center, anchors Shadelands on the southeast corner with shopping, dining, banking, and health & wellness salons and facilities.
"Shadelands is place where careers can be built. When kids come back from college, they can get a job, and build a career, and stay in Walnut Creek. That's where we're headed," said President & CEO of Walnut Creek Chamber of Commerce & Visitors Bureau Jay Hoyer. Among other advancements, Shadelands is looking to expand free shuttle services and improve regional trail access; improve Shadelands sidewalks, crosswalks, bus stops, and lighting; and implement multi-modal improvements such as shared and autonomous transportation within Shadelands.