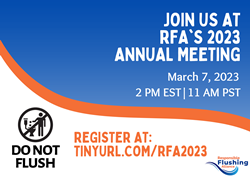 2023's campaign provides further proof of the positive impact delivered when we collaborate to solve a shared problem," said Lara Wyss, President of RFA. "RFA's #FlushSmart campaign allows wipes makers to reach consumers with consistent information regarding the 'Do Not Flush' symbol.
SEATTLE (PRWEB) March 01, 2023
Today, the Responsible Flushing Alliance (RFA) announced its second annual meeting will occur virtually on March 7 from 11 a.m. – noon PST. The invitation is open to all wastewater and sanitation agencies, wipes manufacturers, and the media.
The annual meeting will give attendees an opportunity to preview what is to come in 2023 from RFA's continued consumer education efforts, including driving increased awareness of the "Do Not Flush" symbol and helping spur behavior change by practicing responsible flushing habits. Building on the momentum of 2022, RFA is engaging an even wider audience via its expanded advertising campaign and educational resources, with an exciting new campaign launch scheduled for "Flush Smart Day" (July 1, 2023).
"Building off of last year's momentum, 2023's campaign will provide further proof of the positive impact that can be delivered when different industries collaborate to solve a shared problem," said Lara Wyss, President of RFA. "Membership in RFA provides wipes manufacturers the opportunity to contribute to one overarching #FlushSmart campaign so that consumers can receive consistent and timely information regarding the 'Do Not Flush' symbol and other smart flushing practices."
Attendees will also be presented with data from RFA's California consumer survey, hear from wastewater and wipes industry partners, and learn about how partnering with RFA meet the consumer education requirement by the state of California to advance "Flush Smart" habits.
The meeting is a capstone to an already growing movement in California sparked by RFA's #FlushSmart public awareness campaign. The campaign, officially launched in January 2022, seeks to increase consumer awareness of the "Do Not Flush" symbol, which is part of the Wet Wipes Labelling Law requiring labels on all single-use, non-flushable wipes packaging in California. RFA used #FlushSmart to also inform consumers of what not to flush, which can help avoid costly damages to home plumbing and community infrastructure.
The results of the 2022 campaign, as well as more information about the various initiatives it entailed, are detailed in the RFA's annual report, submitted to the California State Water Resources Control Board in January 2023.
If your company or organization is interested in attending the virtual 2023 Annual Meeting, please register at RFA 2023 Annual Meeting (zoom.us). Or, for more information about the Responsible Flushing Alliance, please visit http://www.flushsmart.org or http://www.flushsmartcalifornia.org.
About Responsible Flushing Alliance
The Responsible Flushing Alliance (RFA) is a 501(c)(6) non-profit organization dedicated to consumer education focused on what not to flush. RFA's goal is to change consumer behavior to help reduce damage to our nation's sewage systems caused by objects and materials designed not to be flushed.
Responsible Flushing Alliance Coalition Members
3M, Albaad Inc., ANDRITZ Group – Nonwoven Division, California Association of Sanitation Agencies (CASA), The Center for Baby & Adult Hygiene Products (BAHP), Clorox, Dukal, LLC., DUDE Products, Eleeo Wipes, Essity, First Quality, GOJO, Goodwipes, Johnson & Johnson, H20 Global News, Kelheim Fibres GmbH, Kimberly-Clark, National Stewardship Action Council (NSAC), National Association of Clean Water Agencies (NACWA), Nehemiah Manufacturing, Nice-Pak and PDI, Papel Aralar S.A., Procter & Gamble, Reckitt, Rockline Industries, Sellars Nonwovens, Spartan Chemical, Suominen Corporation, Toilet Board Coalition, Unilever, WaterWipes.