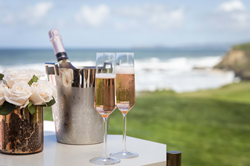 HALF MOON BAY, Calif. (PRWEB) August 12, 2019
The Ritz-Carlton, Half Moon Bay – the picturesque oceanfront resort in Northern California – will become even more photo-worthy this fall with its first-ever Rosé Garden event on September 7, 2019. Centered around the theme of rosé wine – the beloved pink beverage – the resort's stunning Ocean Lawn will be transformed into a lavish, Instagrammable haven complete with premium rosé wines and bubbles, decadent culinary creations, and an abundance of fresh roses, among other delights.
The exclusive afternoon event will combine the elegance of an English garden party with the resort's breathtaking coastal location to offer a one-of-a-kind experience on the coast. Guests will feel like royalty as they enjoy sips of Provence rosé, Moet & Chandon and Dom Perignon bubbly, Hangar 1 rosé vodka, Monkey 47 rosé gin, colorful punch variations, and more delightful beverages. A luxurious high tea culinary presentation will be served featuring butler-passed bites including Lobster with Avocado Cream and Lime Foam; Beetroot Salmon on Buckwheat Blini, Smoked Trout Roe and Cauliflower Cream; Mini Sourdough Roast Beef and Horseradish Sandwiches and Watermelon and Green Olive Vermouth Osmosis Cubes. Guests will also enjoy chef action stations serving Half Moon Bay Spot Prawn Royal with Seaweed and Lemon Foam, Ouroboros Farms Salad with Organic Local Vegetables and Pink Grapefruit Vinaigrette and desserts will include pink macarons and red velvet mini cupcakes.
Guests can relax on plush seating and garden furniture, which will boast a bright, clean aesthetic with plenty of pink and pastel florals and décor for maximum Instagrammability. Attendees are encouraged to dress in elegant wear, including statement hats if they wish. Live music will add to the lively ambiance, as well as a stately Rosé Champagne Tower soaring several feet high in the sky with free-flowing rosé bubbly.
The Rosé Garden at The Ritz-Carlton, Half Moon Bay will take place from 4:00 p.m. to 8:00 p.m. on Saturday, September 7, 2019. Advanced reservations are required and available via TOCK for $250 per guest.
High resolution imagery is available HERE and HERE (credit: The Ritz-Carlton, Half Moon Bay).
For more information, please visit ritzcarlton.com/en/hotels/california/half-moon-bay or call (650) 712-7000.
About The Ritz-Carlton, Half Moon Bay
Set atop a rugged bluff overlooking 50 miles of pristine California coastline, The Ritz-Carlton, Half Moon Bay is a 261-room spa and golf resort offering a relaxing and romantic setting. As the San Francisco Bay Area's only oceanfront resort, the timeless estate provides guests with a relaxed yet refined experience for a romantic getaway. For more information, please contact The Ritz-Carlton, Half Moon Bay at 650-712-7000. For room reservations, contact your travel professional, visit ritzcarlton.com/HMB or call Ritz-Carlton worldwide reservations at 800-241-3333.