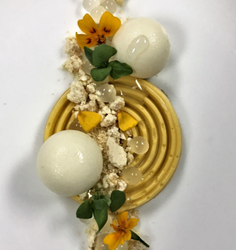 "My favorite part of creating new desserts is when I am mixing the ingredients to create a new flavor. It is very exciting to watch the reaction of flavors when they are not compatible. We are like mad little scientist mixing flavors to create the perfect taste." - Chef Troman Felizmenio
RANCHO MIRAGE, Calif. (PRWEB) November 01, 2018
"Fall is my favorite season of the year. I love the colors, the changing winds, and the crisp air in the morning," says Troman Felizmenio, Pastry Chef at The Ritz-Carlton, Rancho Mirage. "My inspiration to create these new desserts comes from the colorful fruits you find at the outdoor market. They give me so many ideas for turning textures, colors and flavors into a masterpiece."
Now that Autumn is in full swing in Greater Palm Springs, Chef Troman wastes no time in creating desserts fit for the season. Available October 31 through December 31, his specialty dessert menus are available at both The Edge Steakhouse and State Fare Bar & Kitchen located at The Ritz-Carlton, Rancho Mirage.
When asked how he designs his artistic confections, Chef Troman states, "I always look at the main component and tries to mix-match the flavors. Then, I will think about the process of how to incorporate the texture, taste, smell, shape and color of my composition."
Desserts like the Peach Mango Cream Cheese Mousse combines peach-pear and mango custard, white chocolate, passion fruit, pistachio, with basil and marigold flowers to create a dish as artistic as it is appetizing.
"My favorite part of creating new desserts is when I am mixing the ingredients to create a new flavor. It is very exciting to watch the reaction of flavors when they are not compatible. We are like mad little scientist mixing flavors to create the perfect taste," states Chef Troman.
For those feeling adventurous in the kitchen this holiday season, a few words of wisdom are offered from Chef Troman: "What I can say to those who want create their own desserts, is just express yourself. Create your ideas and don't be afraid of trying things in unconventional ways. When it comes to desserts, think outside the box."
For additional dessert options from Chef Troman, The Ritz-Carlton, Rancho Mirage will be offering Thanksgiving dining at State Fare Bar & Kitchen, The Edge Steakhouse, and in The Ritz-Carlton Ballroom. For reservations, menus, and additional information regarding holiday dining, guests can call (760) 321-8282 or go online at ritzcarlton.com/ranchomirage.