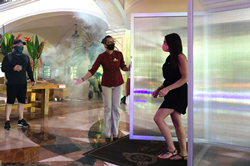 CANCÚN QUINTANA ROO, México (PRWEB) July 03, 2020
With joyful celebrations, since June the beaches and hotels of the Riviera Maya began to welcome visitors at approved capacities, reactivating the state's economy. The government health authorities' protocols have been implemented, which include careful cleaning and sanitizing, among other preventive actions.
The most recent opening was beautiful Hacienda Tres Ríos Resort, Spa & Nature Park in the Riviera Maya, part of Sunset World Group, which welcomed its first guests with a spectacular celebration. The excited hotel employees formed a line, with a healthy social distance between them, and cheered happily as the guests arrived in a van that brought them from the airport. Mariachis were present playing joyful music. There were also mascots that represent the wildlife in Tres Ríos Natural Park, Mayan warriors and other Mexican cultural characters.
The van parked in the motor lobby and the guests exited and were greeted by the hotel manager. They walked on a red carpet towards a large sign that read "Welcome Home." They then cut the red ribbon at the lobby doors and entered the sanitation tunnel. Once inside, they were greeted with a Mayan ritual. The guests sipped a welcome cocktail while the new digital check-in procedure, which will speed up the check-in process and avoid crowding, was explained to them. They also received a kit with masks, gloves and sanitizing gel, now a requirement, and signed the book of distinguished visitors.
"It is exciting to see that our first guests were moved by this warm welcome," said María Teresa González, General Manager of Hacienda Tres Ríos, "It is also very meaningful for us as hospitality professionals to return to the work that we love so much," she added.
Sunset World Group is a family-owned Mexican company and a leader in the hospitality industry, offering authentic and unforgettable vacation experiences in Cancun and the Riviera Maya. It was founded more than 30 years ago and has grown to offer four resorts, world-class travel services, amenities and a diverse network of operational and marketing solutions that focus on providing the best vacation experiences for its Members and guests. From cultural excursions to water sports, the Members of Sunset World are never far from their next great adventure.