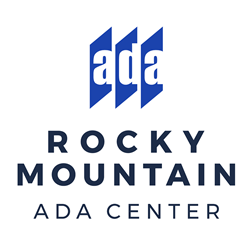 COLORADO SPRINGS, Colo. (PRWEB) July 25, 2018
This Thursday, July 26 marks the 28th Anniversary of the Americans with Disabilities Act (ADA) signed by President George H.W. Bush on July 26, 1990. The Rocky Mountain ADA Center (RMADAC) urges citizens, businesses and public entities in its designated region to recommit to the ADA by signing the 2018 pledge to celebrate and recognize the progress made in the Rocky Mountain region and to invite more people to seek out the RMADAC to leverage its many free technical assistance, research and training services.
"There are close to 60 million Americans with a disability making this population the largest minority group in the nation and the only one anyone could join today; perhaps by falling on steps or having a skiing accident," said Dana Barton, director of RMADAC. "We want to use this anniversary as a pathway to deepen our relationships in the region while leveraging this critical date in American history to welcome new people to visit, call, email or connect with us on social media platforms so our team of experts can assist with questions about rights and responsibilities under this crucial federal law."
RMADAC provides free, confidential and accurate information, resources, technical assistance, and training on the ADA to businesses, employers, state and local governments, people with varying abilities and their families, advocates, and veterans across its region. Key topics the center addresses are:
1. Defining what is a disability under the ADA
2. What the ADA does and doesn't cover (for example travel and housing are covered by separate laws)
3. Service Animal Dos and Don'ts
4. ADA-related lawsuits
5. Accessibility questions for both public and private entities
6. Reasonable accommodations in the workplace
7. How to make social media and websites accessible for everyone
"As our country marks this 28-year effort to create a nation that is fully accessible, there is still a lot of work to do. A great next step toward accessibility is for everyone to take the ADA pledge as it symbolizes our collected effort to be a bright light for accessibility across the globe. It is our team's sincere hope that this milestone will energize more direct communication to the center, so we can help even more people in our region further understand the law and thereby create a more accessible six-state region for everyone," added Barton.
About the Americans with Disabilities Act: The ADA and the ADA Amendments Act of 2008 (ADAAA) give civil rights protections to individuals with disabilities similar to those provided to individuals on the basis of race, color, sex, national origin, age, and religion. The ADA and ADAAA also assure equal opportunity for individuals with disabilities for access to businesses, employment, transportation, state and local government programs and services, and telecommunications.
About the Rocky Mountain ADA Center: The Rocky Mountain ADA Center provides information on the Americans with Disabilities Act (ADA) to individuals and organizations throughout Colorado, Utah, Montana, Wyoming, North Dakota, and South Dakota. The Rocky Mountain ADA Center is a member of the National Network of ADA Centers and is funded by National Institute on Disability, Independent Living, and Rehabilitation Research (NIDILRR grant number 90DP0094-01-00). Our center is powered by and a project of Meeting the Challenge, Inc. located in Colorado Springs, CO. http://www.rockymountainada.org/
The center's staff members represent a diverse and dynamic group of individuals who are dedicated to the driving spirit of the ADA as well as the complex standards behind the law.
The Rocky Mountain ADA Center is available to assist with any of the following areas:

Material Dissemination
Technical Assistance on the ADA
Training
Referrals
Research
To connect with the Rocky Mountain ADA Center on social media, click here.
About the ADA National Network: The ADA National Network is the premier resource for information, guidance and training on the Americans with Disabilities Act (ADA) and its implementation. The Network consists of 10 regional ADA Centers located throughout the United States that provide services and assistance tailored to meet the needs of local businesses, government and individuals. The ADA National Network is not an enforcement or regulatory agency—but rather a helpful resource about the rights of people with disabilities and your responsibilities under the ADA. Contact the ADA National Network and your regional ADA Center with questions on the ADA at 1-800-949-4232. All calls are confidential. Visit the ADA National Network website for links to extensive ADA information and training opportunities at http://www.adata.org