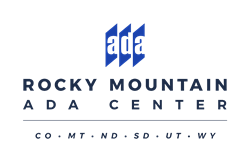 COLORADO SPRINGS, Colo. (PRWEB) August 29, 2018
The Rocky Mountain ADA Center (RMADAC), a member of the National Network of ADA Centers, along with research partners the Rural Institute for Inclusive Communities and University of Montana, Missoula, is pleased to make available its latest 2018 Rapid Response Research Project outlining criteria for Vacation Rental Properties (VRPs) businesses.
According to the report: Based on the review of current legal policy, any Place of Lodging, as well as Hotel-like Accommodations and Transient Lodging intended or designed to be used as a public accommodation, is subject to ADA accessibility and enforcement guidelines. However, lodging exempt from the ADA is the "five-room exemption" defined as place of lodging that contains no more than five rooms for rent and is occupied by the proprietor of the establishment as a resident.
To access the research, click here. To access RMADAC's sharable infographic highlighting the group's research findings, click here.
"With the growing demand for VRPs among consumers, our team decided it is critical for the entire nation to better understand how the ADA and VRPs are intertwined when it comes to meeting the law's enforcement guidelines," said Dana Barton, director of the Rocky Mountain ADA Center. "We made this delineation due to the amount of technical assistance calls the RMADAC team has fielded on nearly a daily basis on this topic over the past few years. We are hopeful this research and its designations will assist the marketplace in meeting accessibility guidelines while also providing consumers with tools to understand their rights."
The research team offer these quick definitions:

Places of Lodging: Under the law, a Place of Lodging is any inn, hotel, motel, or facility that provides guest rooms for short-term sleeping stays with no right of return after the conclusion of the stay, and provides amenities, such as management and reservation services, rooms available on a walkup or call-in basis.
Hotel-like Accommodations: VRP hosts who offer Hotel-like Accommodations are liable under the ADA if their VRP is a timeshare, condominium hotel, or other mixed-use corporate hotel facilities intended to be used as a public accommodation on a VRP platform.
Transient Lodging: Transient Lodging is any building or facility, excluding medical care facilities and residential facilities, that contains sleeping accommodations. Examples of Transient Lodging include, but is not limited to, resorts, group homes, hotels, motels, and dormitories classified as a public accommodation and is covered under the ADA.
Service Animals: VRP hosts should expect to accommodate service animals. VRP hosts can ask two questions regarding a service animal: 1) Is the service animal required because of a disability? 2) What work or task has the dog been trained to perform?
"We are pleased by actions taken by some in the VRP industry to meet accessibility standards, such as in 2017 when Airbnb acquired Accommable, an accessible vacation rental startup, to better accommodate individuals with disabilities. I am hopeful other organizations with similar offerings consider tools to increase their accessibility to meet federal guidelines, but more importantly to be great hosts to those seeking vacation accommodations," added Barton.
To review past rapid response research projects spearheaded by RMADAC, click here.
About the Rocky Mountain ADA Center: The Rocky Mountain ADA Center provides information on the Americans with Disabilities Act (ADA) to individuals and organizations throughout Colorado, Utah, Montana, Wyoming, North Dakota, and South Dakota. The Rocky Mountain ADA Center is a member of the National Network of ADA Centers and is funded by National Institute on Disability, Independent Living, and Rehabilitation Research (NIDILRR grant number 90DP0094-01-00). Our center is powered by and a project of Meeting the Challenge, Inc. located in Colorado Springs, CO. http://www.rockymountainada.org/. The center's staff members represent a diverse and dynamic group of individuals who are dedicated to the driving spirit of the ADA as well as the complex standards behind the law. To connect with the Rocky Mountain ADA Center on social media, click here.
The Rocky Mountain ADA Center is available to assist with any of the following areas:
Material Dissemination
Technical Assistance on the ADA
Training
Referrals
Research