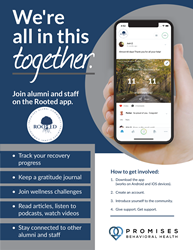 Our goal has always been to create innovative ways to provide the best continuing-care possible.
BRENTWOOD, Tenn. (PRWEB) March 30, 2020
Promises Behavioral Health, leading addiction and mental health treatment provider, announced today that its Rooted Alumni program has released a mobile app to help clients who have completed treatment find available resources, stay connected with their Alumni Advisers and find motivation in their recovery. This app will be available to both Apple and Android users and can be found in their respective app stores.
The Rooted Alumni app will allow previous clients from the Promises Behavioral Health's family of facilities to remain connected after their release from treatment. Research indicates that "life-affirming" alumni services can aid in reducing relapse and psychiatric symptoms. The app will help clients by offering them recovery resources, monthly challenges, daily affirmations, inspirational stories and quotes, communication tools to help clients stay in contact with their Alumni Advisers and a calendar for weekly alumni meetings or events.
"This has been in the works since we started the Rooted Alumni program," noted Patrick Custer, National Alumni Director with Promises Behavioral Health. "It is exciting to see all the hard work come to fruition. We couldn't have achieved this milestone without the help of our dedicated Alumni Advisers. Our goal has always been to create innovative ways to provide the best continuing-care possible."
With the app in place, alumni can now deepen their connection to the foundation of their recovery. As the program continues to grow, the Rooted Alumni program hopes to add more innovative ways to engage with clients and provide empowerment throughout each clients' recovery journey.
About Promises Behavioral Health
Promises Behavioral Health is a family of behavioral health programs with regional brands such as The Right Step, The Ranch, Promises and Clarity Way. The company currently operates facilities across Texas, Tennessee, Florida, Pennsylvania and Massachusetts. Promises offers comprehensive, innovative treatment for substance abuse, sexual addiction, trauma, eating disorders, and other mental health disorders. Through its programs, the company is committed to delivering clinically sophisticated treatment that promotes permanent lifestyle change, not only for the client but for the entire family network. For more information, please visit http://www.PromisesBehavioralHealth.com.