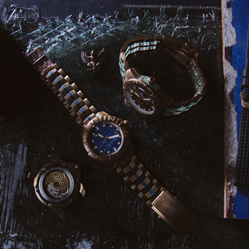 "We hope this collection of crafted timepieces inspires the thrill of adventure and pushes the boundaries of sustainable design."- Matthew Harkins, CEO and founder, The Sacred Crafts
CARLSBAD, Calif. (PRWEB) September 01, 2020
The Sacred Crafts is thrilled to announce the launch of its debut watch collection, La Grande Mer (The Great Sea). La Grande Mer is inclusive of four, Swiss Made automatic watches - La Grande Mer, Hua Hin, Dark Seas, and Kudmai—all available in a limited supply. The collection is made from reclaimed bronze, wood and other custom materials harvested from the amazing coastal waters in Thailand.
"We hope this collection of crafted timepieces inspires the thrill of adventure and pushes the boundaries of sustainable design. The intention of this collection is to celebrate culture, craft and to elevate materials that have outlived their original intended use. Every aspect of these watches was designed to be enjoyed and shared as a passionate exploration into how far we can push the manufacturing of secondary materials," said Matthew Harkins, founder and CEO of The Sacred Crafts.
Crafted with a variety of reclaimed elements, La Grande Mer Collection is made from vintage fishing boats, bronze marine propellers, and fishing nets cleaned from coastal waters. Reclaimed bronze is featured in La Grande Mer, Hua Hin and Kudmai models and will gradually transform from a glowing bronze to a deep patina, depending on where the watch is worn. The Sacred Crafts' first custom terrazzo compound "SeaGlass" was created from fishing nets and a jewelry grade bio-epoxy base. It brings a signature design to La Grande Mer and Dark Seas offerings in the links, dial and/or crown guard, depending on the model.
Harkins added, "This collection is a salute to the beauty we can produce when we accept the mandate of preserving the great sea and all living things that are connected to it. Not only is La Grande Mer a watch drenched in storytelling, it's a proper dive watch meant to be taken anywhere – in, on or around the sea."
Each Swiss-made watch has a 40-hour power reserve with 25 jewels, 300m of water resistance and features a unidirectional rotating bezel. La Grande Mer Collection Watches ship with a luxury, reclaimed wood box made from vintage fishing boats, rubber dive strap, premium leather band, travel case and coffee table book that shares the story of how and why The Sacred Crafts created this bespoke watch. Each watch is numbered and certified by The Sacred Crafts. With each purchase, you will receive a 5-year warranty on parts and movement and 36-month complimentary servicing to ensure a lifetime of precise timekeeping. Sizing and strap replacement are available upon request. La Grande Mer collection can be shipped globally from Carlsbad, CA.
The four timepiece models are available in the following limited quantities: Hua Hin (90), Kudmai (90), Dark Seas (100), La Grande Mer (220). This bespoke collection was designed in California, crafted in Thailand and refined in Switzerland. It will be available for presale from September 1st through October 31st, 2020 and orders will be shipped in November 2020.
La Grande Mer was created by The Sacred Crafts to celebrate our connection with the sea. Launched during a pandemic, the story of La Grande Mer is a story of hope and represents the way in which beautiful things can come from passed-over materials. It reminds us of the places out there that are worth keeping clean, and the balance we need to be able to keep if we intend to continue enjoying the wonderful world of The Great Sea.
For more information, please visit: https://thesacredcrafts.com/collections/la-grande-mer-watch