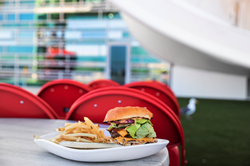 SAN DIEGO (PRWEB) August 02, 2021
Today, the San Diego Symphony officially announced partnerships for The Shell Provisions, its signature culinary program featured at its new permanent waterfront venue, The Rady Shell at Jacobs Park, in downtown San Diego. The program, conceived and created by Frank ODea Hospitality for the San Diego Symphony, curated by Centerplate, offers an impressive range of local specialties in partnership with some of the city's most popular purveyors including celebrity Chef Richard Blais, URBAN KITCHEN Group, Biga, Lola55, Achilles Coffee Roasters and more. In addition to top-notch food and beverage selections, The Shell Provisions at the Prebys Plaza Dining Pavilion and Market boasts new state-of-the-art kitchens and incredible dining spaces, allowing concertgoers to enjoy some of the best tastes San Diego has to offer, while taking in the beautiful sights and sounds of the city. The Rady Shell's inaugural season starts on Friday, August 6, 2021 with Music Director Rafael Payare conducting the Symphony in the world premiere of Mason Bates's Soundcheck in C Major.
"Our goal with The Rady Shell at Jacobs Park is to not only give San Diegans and visitors an unforgettable musical experience, but also an outstanding cultural experience that reflects our city. The Shell Provisions highlights San Diego's cuisine, while supporting local businesses," said San Diego Symphony, CEO Martha Gilmer. "We are thrilled to partner with Centerplate and Chef Richard Blais, Tracy Borkum of URBAN KITCHEN Group, Tae Dickey of Biga, and Frank Vizcarra of LOLA 55 to give concertgoers an authentic and exquisite dining experience."
Streamlined Ordering and Service
To make service at The Rady Shell as efficient as possible, The Shell Provisions is entirely cashless. Blais By the Bay, Blais Boxes and URBAN KITCHEN picnic boxes are available for pre-order. Selections from Lola55, Biga, URBAN KITCHEN Group as well as other purveyors throughout Prebys Plaza will be available for self-order at a kiosk. Guests can also pre- or self-order via The Rady Shell app, available in the Apple or Google Play App Stores. The app also contains access to digital tickets, the venue's concert calendar and full information about the new venue. The various cashless ordering systems will increase speed of service significantly, so no guest has to miss a moment of any performance. Additionally, as of this year, no outside food or drink will be permitted aside from factory-sealed water bottles.
Tableside Dining + Picnic Boxes
Guests seated in the Marina and San Diego Row sections will have a variety of tableside dining options curated by Chef Richard Blais — of Top Chef fame with a variety of popular local restaurants, his newest being Ember and Rye — as well as URBAN KITCHEN Group, known for their modern Italian hot spots CUCINA Urbana, CUCINA Enoteca and CUCINA Sorella.

Blais By the Bay features some of Chef Blais' favorite eats including flatiron steak, "arroz con pollo" roast chicken, vegan whole wheat fusilli pasta and more. This menu will be available to pre-order for guests seated in the Marina and San Diego row sections, and will be served at their table.
Blais Boxes are curated picnic boxes with selections such as a pulled Hawaiian pork sandwich, roasted vegetable wrap, "The Cupboard" charcuterie-themed box, a chef-selected vegan option and more. These are available to concert goers in the Marina, San Diego and Parkside sections. Also available for pre-order, guests can select a specific time they want their box delivered to their seats.
Pre-Order: Blais By the Bay meals, Blais Boxes must be pre-ordered by 4 p.m. the day before the concert at - https://www.theshell.org/plan-your-visit/dinner/.
"I'm so honored to continue partnering with the San Diego Symphony and to contribute to the incredible experience at The Rady Shell at Jacobs Park," said Chef Richard Blais. "I love offering a variety of dining experiences at my restaurants and am passionate about the arts — getting to provide a culinary experience at this amazing new venue is truly special."
Prebys Plaza Dining Pavilion and Market
Named for San Diego philanthropist Conrad Prebys, the Prebys Plaza Dining Pavilion and Market will serve as the central hub for food and beverage offerings available to all guests at The Rady Shell at Jacobs Park. This open air pavilion and dining area will be home to many local partners offering self-order and grab-and-go selections. Purveyors within the Prebys Plaza include:

The Shell Provisions will also offer an expanded cart service program, Food Cart Delights. Throughout and adjacent to Prebys Plaza, multiple carts will offer guests even more options. Local establishments providing cart service include Marketplace Grille, featuring an assortment of hummus, wraps and desserts. Kitchens For Good will also have a cart featuring a selection of soups and bread. Minocqua Popcorn will operate a cart offering buttered popcorn and kettle corn.
The Shell Provisions Beverage Offerings
There will be multiple full bars throughout the venue, locations varying by concert or event. These bars include quality spirits, wine, local craft beers from AleSmith, Saint Archer and Stone Brewing as well as canned Cutwater cocktails, the official canned cocktail of the San Diego Symphony. A wide variety of wines by-the-bottle will be available and non-alcoholic options include soft drinks, and water.
Group and Corporate Events at San Diego Symphony events
Reserved group hospitality spaces are available for all performances at The Rady Shell at Jacobs Park with catering and food service provided via The Shell Provisions on-site options. Group events can be scheduled by contacting cpatterson@sandiegosymphony.org or groups@sandiegosymphony.org. Visit https://privaterental.sandiegoshell.com/ for more information.
About The Rady Shell at Jacobs Park
As the centerpiece of the 3.7-acre public Jacobs Park developed and managed by the San Diego Symphony on the city's scenic Embarcadero, The Rady Shell is the first permanent outdoor venue in the San Diego Symphony's century-long history, designed to host more than 100 concerts and events year-round. The project has been developed in partnership with the Unified Port of San Diego with 96% of the $85 million cost raised privately by the Symphony.
As innovative in design as it is spectacular in setting—offering 360 degrees of sky and sea—The Rady Shell is an unprecedented resource for the Symphony. The venue will host an expanded schedule of diverse outdoor concerts programmed by Music Director Rafael Payare, including an exciting roster of commissioned works and premieres, as well as performances by international touring artists and free programs. It will also be available year-round for non-profit community groups, schools and individuals. Jacobs Park, owned and managed by the Symphony, will surround this venue with walkways, dining pavilions and recreational facilities in the heart of the Embarcadero and will be accessible to the public for free on most days of the year.
About the San Diego Symphony Orchestra
Founded in 1910, the San Diego Symphony is the oldest orchestra in California and one of the largest and most significant cultural organizations in San Diego. The Orchestra performs for more than 250,000 people each season, offering a wide variety of programming at its two much-loved venues, Copley Symphony Hall in downtown San Diego and The Rady Shell at Jacobs Park on San Diego Bay. In early 2018, the San Diego Symphony announced the appointment of Rafael Payare as music director. Payare leads the orchestra's 82 full-time musicians, graduates of the finest and most celebrated music schools in the United States and abroad. The San Diego Symphony also serves as the orchestra for the San Diego Opera each season, as well as performing at several regional performing arts and community centers. For more than 30 years, the San Diego Symphony has provided comprehensive learning and community engagement programs reaching more than 65,000 students annually and bringing innovative programming to San Diego's diverse neighborhoods and schools. For more information, visit http://www.sandiegosymphony.org.
About Centerplate
Each year, the combination of Sodexo and Centerplate enhances the level of services provided to more than 116 million guests across premier venues in North America, such as stadiums, arenas, convention centers, musical venues, museums, zoos, aquariums and more. Through consumer research, innovations and local personalization, we are positioned to deliver an unrivaled array of services to successfully contribute to offer a memorable experience for the guests in our partner venues. From hosting VIPs at the Super Bowl to superheroes at Comic Con, the company provides hospitality services to North America's premier events. Learn more about Sodexo Sports and Leisure.
###