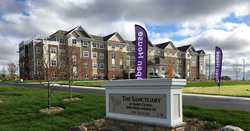 This was a very exciting year. To open such a beautiful community and make it home for so many has been very rewarding for all of us. We look forward to making The Sanctuary at St. Cloud "home" for so many more this year.
BRADLEY, Ill. (PRWEB) January 09, 2019
The Sanctuary at St. Cloud, an affordable assisted living and memory care community, is celebrating its first year of serving area seniors and their families by hosting an Anniversary Open House.
This event will be held from noon to 3 p.m. on Jan. 15 at the community, which is located at 2410 20th Avenue SE in St. Cloud.
Tours will be available, and treats will be served during the Open House with a sparkling toast for residents and guests at 12:15 p.m.
A session will be held from 1 p.m. to 2:30 p.m. to introduce attendees to Dementia Friends, a worldwide movement to make communities dementia-friendly, and develop a better understanding of what dementia is, the different types of dementia, what it is like to live with the disease and how to better communicate with someone who has Alzheimer's.
The Sanctuary at St. Cloud is the first 100 percent trained dementia-friendly community in the state of Minnesota. The community hosted its first dementia education seminar this summer, and the sessions continue to grow in popularity.
Last January, The Sanctuary opened with 15 employees, and by the end of that month, the community had welcomed 23 residents. Today, the community has 70 staff members and has welcomed more than 80 residents.
"This was a very exciting year. To open such a beautiful community and make it home for so many has been very rewarding for all of us," said Sanctuary Administrator Kristi Keller-Smith. "We look forward to making The Sanctuary at St. Cloud "home" for so many more this year. Our first anniversary marks the start of another wonderful opportunity, and we look forward to meeting everyone who comes to visit us."
The Open House is open to the public. There is no charge to attend.
For more information about this event or to schedule a tour at another time, call 320-252-6325.
The Sanctuary at St. Cloud was designed for seniors who have a financial need and need some help to maintain their independence.
"We provide older adults with a wonderful alternative to a nursing home or to struggling alone at home," said Keller-Smith.
The community combines residential apartment-home living with the availability of personal assistance, help with medications, and a variety of convenience and support services, such as meals, housekeeping, laundry and transportation.
Residents live in private apartments that they furnish and decorate to their tastes. Each of the apartments features a kitchenette, spacious bathroom with shower and grab bars, individually controlled heating and air conditioning and an emergency alert system.
In addition, The Sanctuary offers several areas for residents to enjoy, including a spacious dining room and private dining room, an exercise room, movie theater, library and computer room, physical therapy room and an outdoor patio area.
"Residents benefit from all of the opportunities to socialize with friends and neighbors and to participate in activities and special programs," says Keller-Smith.
Certified nursing assistants, working under the direction of a licensed nurse, are on-duty 24 hours a day, seven days a week.
Part of the community is dedicated to memory care, catering to older adults with Alzheimer's disease or related dementia. This specialized neighborhood provides opportunities for residents to maintain a sense of purpose and belonging throughout the seasons of dementia.
"Our focus," says Rod Burkett, CEO of Gardant Management Solutions, the company that manages the community "is to provide The Sanctuary residents with the love, compassion and dignity they deserve and the help and assistance they need. Our emphasis is on helping each resident achieve and maintain as much independence as possible for as long as possible."
Gardant also manages The Sanctuary communities in Brooklyn Center and West St. Paul. The Sanctuary at Springboro assisted living community will open in Ohio this year.
The Sanctuary at St. Cloud is licensed and regulated through the Minnesota Department of Health and certified for Medicaid reimbursement by the State Department of Human Services.
SCA Properties developed The Sanctuary communities.
When fully occupied, the community will provide more than 100 full-time and part-time jobs. Annual payroll with benefits is projected to be $2.4 million.
For more information about the community, visit https://thesanctuary-stcloud.com.