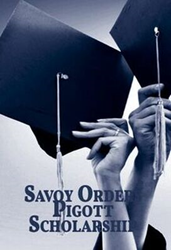 New York, New York (PRWEB) May 18, 2020
New York, New York - Due to the Covid-19 crisis, the American Foundation of Savoy Orders (Savoy Foundation) announced the extension of the deadline for submission of 2020-2021 Savoy Orders Pigott Scholarships Applications from May 15 to June 15, 2020. Applications and supporting documents may be submitted by email to facilitate the process. A complete list of guidelines, qualifications, and applications is available on its website visit https://www.savoyfoundation-usa.org/savoy-orders-pigott-scholarships.html. All applicants will be notified at the end of July.
Scholarship recipients are selected based on criteria established by the Savoy Foundation, under the generous support of the Pigott family, which endowed the scholarship fund to support gifted and deserving students by assisting them with the costs of their education in the fields of fine arts/ humanities and international studies. International studies scholars participate in the Savoy Foundation NGO program at the United Nations. Since 2010, the Savoy Foundation has awarded scholarships to 24 students to support their college and graduate studies. For detailed information, please visit https://www.savoyfoundation-usa.org/savoy-orders-pigott-scholarships.html . Questions about the scholarship process can be referred to Larissa Van Duser at 646-489-1242 or amsavoy@aol.com.
About the American Foundation of Savoy Orders, Incorporated
The American Foundation of Savoy Orders, Incorporated, a U.S. charitable 501(c)(3) organization, has three endowments: charitable causes, educational programs and operating expenses. The Savoy Orders Pigott Scholarships were also established by the Foundation to provide financial aid to students in the Humanities and International studies. Annual grants are also made to children's and hospital programs. In order to raise funds for the support of its activities, the Savoy Foundation sponsors a winter event, Ballo di Savoia and a spring event, Festa della Primavera in New York City and an event on the West Coast, Notte di Savoia Los Angeles. The Foundation is a Non-Governmental Organization (NGO) in Roster Consultative Status with the United Nations Economic and Social Council. Members of the Italian Royal Family, headed by His Royal Highness, Prince Victor Emmanuel of Savoy, actively support, attend and lend their names through formal patronage of the Savoy Foundation's events. The Foundation also sponsors an annual history series on Italy and the Savoy dynasty which dates back over 1,000 years and is one of the oldest royal families in Europe.