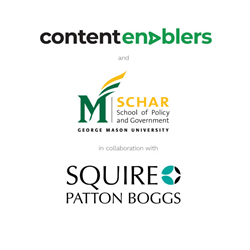 Recent U.S. policy reconsiderations toward China have significantly impacted how companies around the globe operate in China, as well as how Chinese corporations manage their protocols for complying with U.S. regulations, said George Grammas
WASHINGTON (PRWEB) October 20, 2020
The Schar School of Policy and Government at George Mason University, Squire Patton Boggs, and Content Enablers today announced a new collaboration to redefine online trade compliance training for Chinese entities and trade practitioners engaged in international trade with the United States.
The alliance will leverage the combined capabilities of each organization to help Chinese companies and individuals satisfy their U.S. trade compliance training needs in a convenient, on-demand, and cost-efficient manner.
The collaboration combines Content Enablers' world-class function-specific trade compliance training and online learning platform with Squire Patton Boggs' legal, regulatory and market knowledge and the Schar School's regional expertise in the Chinese market. The courses will be available at https://china.tradecompliance.courses.
"Recent U.S. policy reconsiderations toward China have significantly impacted how companies around the globe operate in China, as well as how Chinese corporations manage their protocols for complying with U.S. regulations," said George Grammas, a partner in the global law practice of Squire Patton Boggs, where he chairs the firm's International Trade Practice. He added, "This necessitates heightened due diligence which must be supported by effective compliance training."
Mark J. Rozell, Dean of the Schar School of Policy and Government at George Mason University said, "We have been collaborating with Content Enablers for over a year now in the North American market, and we are very excited to expand that partnership into the Chinese market. The Schar School has a longstanding presence in China, and we are excited to help Content Enablers and Squire Patton Boggs bring these timely and important training courses to companies in the region."
Online course offerings through the partnership will include the following on-demand training:
Foundations of U.S. Export Compliance
Global Trade Compliance Overview
Trade Compliance for Executive Leadership
U.S. Export Controls: Advanced EAR
Trade Compliance Overview for the following job functions:
Aftersales
Human Resources
Legal
Logistics
Procurement
Research and Development
Sales and Marketing
Courses are available in both English and Mandarin Chinese.
"Because policies and regulations are evolving, it is essential for Chinese companies doing business with the U.S. to understand how to navigate the complex mosaic of U.S. export control regulations since it is critical to protecting your business," said Brad Kabanuk, President of Content Enablers. "We are very excited to be working with Squire Patton Boggs and the Schar School on this exciting and essential partnership to help Chinese companies move global trade forward compliantly and efficiently."
About the Schar School of Policy and Government
George Mason University's Schar School of Policy and Government prepares undergraduate and graduate students to be leaders and managers who solve problems and advance the public good in all sectors and government levels—in the United States and throughout the world. Located where policy happens—just 3 miles from the Pentagon, 4 miles from The White House, and 6 miles from the U.S. Capitol Building—students are connected to jobs, internships, networking, and experiences that can only be found in the Washington, D.C., area.
For more about the Schar School, visit their website (https://schar.gmu.edu/) or contact Buzz McClain, Communications Manager at bmcclai2@gmu.edu or 1-703-993-2280.
About Content Enablers
Founded in 2000, Content Enablers has been providing online trade compliance training solutions to leading companies worldwide for 20 years. The company's customers range from FTSE 100 companies to small businesses that create the products and services that drive global business forward and affect the everyday lives of people worldwide. Whether you're looking for a solution to train your professional staff, trade compliance practitioners, or suppliers, you can rely on Content Enablers to help you move global trade forward efficiently and compliantly.
For more about Content Enablers, visit their website (http://www.contentenablers.com) or contact Mikah Sellers, Chief Growth Officer at mikah@contentenablers.com or 1-202-553-9506.
About Squire Patton Boggs
Recognized as one of the world's strongest integrated legal practices, Squire Patton Boggs provides insight at the point where law, business, and government meet. With more than 1,500 lawyers across 20 countries, including three offices in China, the firm delivers commercially focused legal services and invaluable connections on the ground to a diverse mix of clients across North America, Europe, the Middle East, Asia Pacific, and Latin America.
For more information, visit the Squire Patton Boggs website (https://www.squirepattonboggs.com/en) or contact Angelo Kakolyris at angelo.kakolyris@squirepb.com or 1-973-848-5621.