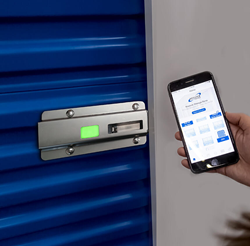 "Our team at Janus is committed to providing innovative solutions to the self-storage industry on a global scale, and the Nokē ONE exterior smart lock allows us to bring our advanced smart technology to the 50,000+ existing self-storage facilities throughout the world."
TEMPLE, Ga. (PRWEB) April 15, 2020
Janus International Group ("Janus"), the leading global manufacturer and supplier of turn-key building solutions and new technology for the self-storage industry, today announced the release of their all-new, high tech external smart locking solutions, the latest in their suite of Smart Entry products.
These all-new, all-in-one smart locks ("Nokē ONE") utilize the same award winning technology operators throughout the US, Canada, South America, and Europe have come to know and love, with the added convenience of an "all-in-one" design that makes the Nokē ONE smart lock the ideal retrofit solution for self-storage operators looking to enhance and update their facility's access control system.
The all-in-one design of the new Nokē ONE smart lock from Janus, allows for easy installation on the exterior of both swing and roll-up doors, making it much less disruptive to retrofit on vacant or occupied units. Powered by the latest, most efficient battery technology, the Nokē ONE battery has been tested to withstand 2 year of use before replacement is required.
Since launching the Nokē Smart Entry system in 2018, the Janus team has installed the smart security solution at 200+ facilities, 8 countries, and worked with operators of every size to help them modernize their facilities.
The Nokē Smart Entry suite of products goes beyond the traditional, somewhat dated access control keypad systems of the past by adding smart locking technology on every unit door, the system provides peace of mind for both tenants and operators and provides an unprecedented level of individual door security.
The Nokē Smart Entry system allows tenants to access their unit, gates, man-doors, elevators, and more all from their smart device.
Ramey Jackson, CEO of Janus said of the new product announcement:
"We're very excited about the Nokē ONE product and the potential it has to help storage operators run their businesses more efficiently. Our team at Janus is committed to providing innovative solutions to the self-storage industry on a global scale, and the Nokē ONE exterior smart lock allows us to bring our advanced smart technology to the 50,000+ existing self-storage facilities throughout the world."
FEATURES OF THE ALL-NEW, NOKĒ ONE SMART LOCK:

EXTERNAL LOCK FITS ON THE DOOR AND CAN BE MANUFACTURED AND SHIP PRE-INSTALLED ON JANUS ROLL-UP AND SWING DOORS
INDUSTRY LEADING BATTERY LIFE (APPROXIMATELY 2-3 YEARS)
ALL-NEW, ALL-IN-ONE DESIGN DRASTICALLY CUTS DOWN INSTALLATION TIME
MOBILE ACCESS AND MONITORING FOR BOTH TENANTS AND FACILITY
CUSTOMIZED, BRANDED MOBILE APP
EASILY RETROFITTABLE
SECURES ALL UNITS, INCLUDING VACANT UNITS
NO NEED FOR PADLOCKS OR DOOR HASPS
24/7, LIVE TECH SUPPORT
2 YEAR WARRANTY COMES STANDARD
TO SEE FULL FEATURE LIST AND LEARN MORE ABOUT NOKĒ ONE, CLICK HERE: http://www.JANUSINTL.COM/NOKĒONE.
ABOUT JANUS
Janus International Group, LLC (http://www.janusintl.com) is the leading global manufacturer and supplier of turn-key self-storage building solutions including: roll up and swing doors, hallway systems and re-locatable storage units, and facility and door automation tools. The Janus team operates out of several U.S. locations and five locations internationally. Janus is owned by Clearlake Capital Group, L.P. a CA based private equity firm.