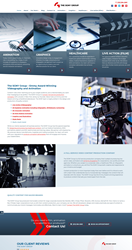 Continuing to produce new content for internal and external audiences is important for companies, now more than ever. The SGNY team is here to help businesses continue to communicate their messages effectively during this pandemic, says Steven Gold, President of The SGNY Group
NEW YORK (PRWEB) April 07, 2020
The full-service content production agency, led by Emmy and Clio award-winning founder Steve Gold, creates high-quality content for their corporate clients. The SGNY Group promotes their clients' exposure through effective and memorable live-action videos, animation and all forms of graphics, even in the midst of COVID-19. During this difficult time, as people are working from home, the SGNY Group can help companies continue to convey information through the following services:

Professional Looking Events: Turning live internal client meetings or a previously planned external conference into virtual events helps everyone stay connected with stakeholders. The SGNY Group creates professional-looking virtual events to engage target audiences as if it was a live event, using dynamic intros and outros, animated calls-to-action, animated segues and lower thirds for speakers. The SGNY Group's professionals can also organize the event for a seamless streaming program.
Videotaped Interviews: Often, key opinion leaders are interviewed at meetings for social media content. The SGNY Group can still manage video interviews, cost-effectively, by using an online interface to ensure that the spokesperson is effective with their presentation. The production team downloads the interview from the cloud and edits it in their studio.
Animation: Animation is a successful medium for relaying message points. The key advantage is that animations are created virtually, using unique illustration or photographs and kinetic typography, along with archived video and/or photography. The SGNY Group can quickly create an effective 1-2 minute animation within a week.
Satellite Media Tours/Radio Media Tours/Radio News Releases: These broadcast PR vehicles for reaching consumers are still viable during this crisis. In fact, television morning shows are really in need of content right now. A spokesperson can be interviewed at home using Skype, WebEx or Zoom, and The SGNY Group will stream the interview to stations from their NYC studio. Radio media tours and news releases have always been entirely virtual and can be easily employed using a telephone.
"Continuing to produce new content for internal and external audiences is important for companies, now more than ever. The SGNY team is here to help businesses continue to communicate their messages effectively during this pandemic," says Steven Gold, President of The SGNY Group
More About The SGNY Group:
With a broad range of knowledge and expertise, the SGNY Group spans various industries to design and create specialized media content to showcase businesses and put them at the forefront. Clients include major corporate brands like Deloitte, IBM, L'Oréal, Pfizer, Novartis, URS, Sunoco, Aetna/CVS, Tork and Clairol. To learn more about The SGNY Group, please visit http://www.sgny.com or contact them directly at (212) 584-5661.