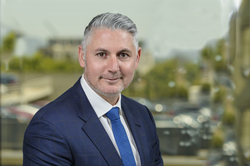 LOS ANGELES (PRWEB) May 23, 2019
A strong marketing department is absolutely essential to any organization that sells products or services. The marketing department provides the research that identifies a company's target audiences and customers. It promotes the company's business and performs the functions that increase product recognition and drive sales. Many organizations, like Green Solar Technologies (GST), a solar company based in Los Angeles California, see their marketing departments as the very backbone of their organization.
Nicki Zvik, Founder of GST, speaks highly of his company's marketing department stating, "I and the rest of the company are grateful for the superb performance of our marketing team lead by our Marketing Director, Jorge Ricalday. He's done a phenomenal job building a team of incredibly talented individuals who have developed an impressive marketing system that very effectively promotes our excellent products and services."
Ricalday has been at Green Solar Technologies for five years, and in that time he and his staff have made major contributions to helping the company grow into one of the top solar companies in the nation.
"The most important part of our success to me is the people I work with. When Nicki gave me the opportunity to lead marketing at GST, I had to start from scratch. I recognized immediately that the most important task was finding and hiring the best people," says Ricalday. "I knew that success depended upon building a superbly talented team. I looked for free-thinking, charismatic individuals capable of thinking out-of-the-box and of working well as a team, and I can confidently say that I've been fortunate in finding those people."
Zvik adds, "What a lot of people don't realize is that a company's marketing team, among its many duties, is responsible for generating leads for the company's sales team. Strong leads equal strong sales. Without leads there are no sales."
Regarding leads, Ricalday states, "Everything we do comes back to generating the best leads for our sales team. Everything from our social media presence to our PPC campaigns to our graphic design to our PR revolves around creating and sustaining leads that are most likely to develop into sales. To be successful at this, It's essential that we believe in the products and services that we promote, and we firmly believe that GST has the best products and services on the market."
Green Solar Technologies is continuously growing and working to improve, so what's next for GST's marketing department?
"While I'm thrilled with the performance of our marketing team, I'm always looking for ways we can become better, and Jorge shares this ideal with me," states Zvik. "I'd like to see our marketing team grow and bring in even more talented people who are able to collaborate with our existing team and take GST to the next level."
Nicki Zvik is the founder of Green Solar Technologies and real estate investment company, Spectrum Properties LLC.