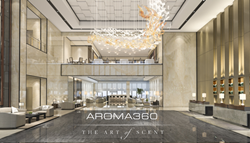 Luxury scent provider, Aroma360, provides the highest quality of scent diffusers in a variety of sizes that work through a building's existing HVAC system.
MIAMI (PRWEB) January 17, 2020
Aromachology—the power of scent–is a potent element of business prosperity and one all industries must address. Unpleasant odors aren't only bad for business, they actively detract from brand image, customer perception, and worker wellbeing. Luxury scenting company, Aroma360, discusses the vital factors that ensure a pleasant environment for all.
While much time, effort, and money are directed towards ensuring business premises are aesthetically pleasing, the area most often overlooked is that of smell. This, it appears, is a big mistake, as unpleasant smells not only create a bad impression, but can detract from brand image, reduce worker productivity, and even have a detrimental effect on health for all who enter.
Creating an attractive aroma throughout a premises, and especially in danger zones such as bathrooms and kitchens, is down to three crucial factors.
1. Eliminating Bad Odors
It might sound obvious, but anything that causes an unpleasant smell within or near a building has the potential to permeate further than its immediate surroundings. Odors from bathrooms are perhaps the first to spring to mind, but there are many others that need constant consideration and action. These include those from kitchens, sewers, trash, chemicals, and even pest manifestation.
The key to removing any unwanted smells is to first determine their source. This might sound simple, but in many cases, it can prove challenging, especially if an odor isn't apparent 24/7. In such a situation professional assistance might be required to discover and deal with the root of the problem.
Of course, the nature of some businesses makes it impossible to eliminate the cause of the smell, for example, a paper mill, food manufacturing plant, or similar. In these circumstances, it's necessary to put other solutions into place, including venting, fans, and that of commercial scent machines.
2. Effective Cleaning
Regular daily cleaning (or more, dependent on the nature of the business) is essential, as it the provision of deep sanitation strategies at necessary intervals. This aspect of company policy is vital to prevent a buildup of grime, dirt, bacteria, and offensive odors. Trash bins should be emptied each day (more if needed), and it makes sound business sense to incorporate robust recycling options throughout the premises.
3. Strategic Scenting
There are many other reasons for foul smells within a workplace, including that of human body odor (especially in hot summer months) and those that naturally emanate from bathrooms. While it's not possible to eliminate these, the way to ensure a pleasing smell at all times is to add a chosen aroma to the environment.
By far the most effective method by which to do this is via scent diffusers. Such machines utilize the latest in technology to gently introduce a uniform fragrance to the required areas. These come in a variety of sizes to service small areas, such as a single room, through to the delivery of multiple scents to various areas of the largest multi-story buildings. These machines use a procedure known as cold-air diffusion to deliver the highest quality of medical-grade essential oils for the perfect scent solution.
Luxury scent provider, Aroma360, provides the highest quality of diffusers in a variety of sizes that work through a building's existing HVAC system. Simple to install and even easier to use, the aroma is evenly and silently introduced within the required area, with the option to easily interchange fragrances as often as needed. The simplicity of these plug-and-go diffusers is that they're not only virtually maintenance-free, but they're also pre-set to the specific needs of the environment, and the company boasts a large choice of curated scents to choose from.
When it comes to ensuring an ambient scent at all times, businesses in all niches are quickly discovering that the latest advancements in bespoke scent diffusion not only have a dramatic impact on customer perception but also is hugely influential on worker well-being and their closely related productivity.
Visit https://www.aroma360.com to discover more.