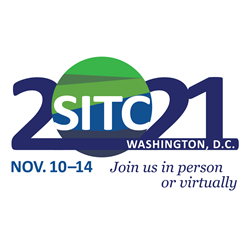 MILWAUKEE (PRWEB) November 02, 2021
The Society for Immunotherapy of Cancer (SITC) invites you to attend the virtual press briefing of the society's 36th Anniversary Annual Meeting (SITC 2021) beginning at 12:30 p.m. EST on Wednesday, Nov. 10, 2021.
The abstracts selected for the press briefing represent an array of the top advances in cancer immunotherapy research. Regular and late-breaking abstracts are embargoed until 8 a.m. EST, Nov. 9, 2021. Data shared during the presentation is embargoed until that date unless otherwise stated during the press briefing. For more information, please review the SITC 2021 Media Policy.
The presentations scheduled to occur during the press briefing are listed in order below:
Abstract # 389: Phase II of CD40 agonistic antibody sotigalimab (APX005M) in combination with nivolumab in subjects with metastatic melanoma with confirmed disease progression on anti-PD-1 therapy
Presenter: Harriet Kluger, MD – Yale University School of Medicine
Abstract # 169: Off-the-shelf, engineered iPSC-derived NK cells mediate potent cytotoxic activity against primary glioblastoma cells and promote durable long-term survival in vivo
Presenter: Jeffrey S. Miller, MD – University of Minnesota
Abstract # 347: KEYNOTE-365 cohort C: pembrolizumab + enzalutamide in patients with abiraterone acetate–pretreated metastatic castration-resistant prostate cancer (mCRPC)—Data after minimum of 22 months of follow-up
Presenter: Leonard J. Appleman, MD, PhD – University of Pittsburgh Medical Center
Abstract # 417: Phase 3 study of pembrolizumab + belzutifan + lenvatinib or pembrolizumab/quavonlimab + lenvatinib versus pembrolizumab + lenvatinib as first-line treatment for advanced renal cell carcinoma
Presenter: Toni K. Choueiri, MD – Dana-Farber Cancer Institute and Harvard Medical School
Abstract # 453: Personalized DNA neoantigen vaccine (GNOS-PV02) in combination with plasmid IL-12 and pembrolizumab for the treatment of patients with advanced hepatocellular carcinoma
Presenter: Mark Yarchoan, MD – Johns Hopkins Sidney Kimmel CCC
Abstract # 350: Phase 2 trial of a DNA vaccine with pembrolizumab in patients with metastatic, castration-resistant prostate cancer (mCRPC)
Presenter: Douglas G. McNeel, MD, PhD – Carbone Cancer Center, University of Wisconsin-Madison
Abstract # 438: A phase 1 trial of CUE-101, a novel HPV16 E7-pHLA-IL2-Fc fusion protein, alone and in combination with pembrolizumab in patients with recurrent/metastatic HPV16+ head and neck cancer
Presenter: Sara I. Pai, MD, PhD – Massachusetts General Hospital
Abstract # 407: A Phase 1b KEYNOTE-B79 trial evaluating non-gene edited allogeneic CAR T-cells, CYAD-101, post FOLFOX preconditioning, followed by pembrolizumab, in refractory metastatic colorectal cancer patients
Presenter: Anne Flament, MD – Celyad Oncology
Abstract # 278: Systematic review and meta-analysis evaluating the impact of antibiotic use on clinical outcomes of non-small-cell lung cancer patients treated with immune checkpoint inhibitors
Presenter: Athéna Crespin, Engineer – Da Volterra
Abstract # 341: A phase Ib expansion cohort of pixatimod plus nivolumab in previously treated, microsatellite stable metastatic colorectal cancer (MSS mCRC)
Presenter: Charlotte Lemech, MBBS BSc(med) FRACP MD(res)– Scientia Clinical Research Pty Ltd.
ADDITIONAL DETAILS:
Participating members of the media will have the opportunity to submit questions via chat for up to three minutes following each presentation. To attend this press briefing, you must register as a member of the press for SITC 2021. To register, please visit https://www.sitcancer.org/2021/press/press-registration. After registration is confirmed, you will receive instructions for the briefing. For more information regarding SITC 2021, please visit the Annual Meeting website at http://www.sitcancer.org/2021.
About SITC
Established in 1984, the Society for Immunotherapy of Cancer (SITC) is a nonprofit organization of medical professionals dedicated to improving cancer patient outcomes by advancing the development, science and application of cancer immunotherapy and tumor immunology. SITC is comprised of influential basic and translational scientists, practitioners, health care professionals, government leaders and industry professionals around the globe. Through educational initiatives that foster scientific exchange and collaboration among leaders in the field, SITC aims to one day make the word "cure" a reality for cancer patients everywhere. Learn more about SITC, our educational offerings and other resources at sitcancer.org and follow us on Twitter, LinkedIn, Facebook and YouTube.