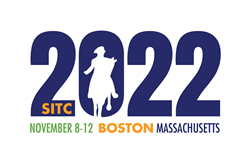 MILWAUKEE (PRWEB) November 03, 2022
The Society for Immunotherapy of Cancer (SITC) invites you to attend the virtual press briefing of the society's 37th Annual Meeting (SITC 2022) beginning at 11:30 a.m. EST on Tuesday, Nov. 8, 2022.
The abstracts selected for the press briefing represent an array of the top advances in cancer immunotherapy research. Regular and late-breaking abstracts are embargoed until 8 a.m. EST, Nov. 7, 2022. Data shared during the presentation is embargoed until that date unless otherwise stated during the press briefing. For more information, please review the SITC 2022 Media Policy.
The presentations scheduled to occur during the press briefing are listed in order below:
Abstract #558: CTX130 allogeneic CRISPR-Cas9–engineered chimeric antigen receptor (CAR) T cells in patients with advanced clear cell renal cell carcinoma: Results from the phase 1 COBALT-RCC study

Presenter: Sumanta K. Pal, MD – City of Hope Comprehensive Cancer Center
Abstract #755: Results of a phase I trial of FT500, a first-in-class, off-the-shelf, iPSC derived NK cell therapy combined with PD-1/PD-L1 checkpoint blockade therapy and IL-2 in patients with advanced solid tumors

Presenter: Sandip P. Patel, MD – University of California, San Diego
Abstract #789: Lifileucel TIL cell monotherapy in patients with advanced melanoma after progression on immune checkpoint inhibitors (ICI) and targeted therapy: pooled analysis of consecutive cohorts (C-144-01 study)

Presenter: Amod A. Sarnaik, MD, FACS – H. Lee Moffitt Cancer Center
Abstract #568: Phase 2 trial of induction and concomitant CTLA4 (ipilimumab) and PD-1 (nivolumab) immune checkpoint blockade and intensity modulated radiation therapy (IMRT) in HPV-positive oropharyngeal squamous cell carcinoma (HPV-OPSCC)

Presenter: Maura L. Gillison, MD, PhD – The University of Texas MD Anderson Cancer Center
Abstract #605: Neoadjuvant vidutolimod (vidu) and nivolumab (nivo) results in MPR and immune activation in high-risk resectable melanoma (MEL): final phase II clinical trial results

Presenter: Diwakar Davar, MD – University of Pittsburgh Medical Center Hillman Cancer Center
Abstract #614: Microbiome modification with fecal microbiota transplant from healthy donors before anti-PD1 therapy reduces primary resistance to immunotherapy in advanced and metastatic melanoma patients

Presenter: Saman Maleki, PhD – Western University, London, Canada
Abstract #711: Interim results of a phase 2 study of nivolumab and relatlimab in advanced mismatch repair deficient (dMMR) cancers resistant to prior PD-(L)1 inhibition

Presenter: Katherine M. Bever, MD – Johns Hopkins University
Abstract #1470: Combining the antigen-presenting cell activator eftilagimod alpha (soluble LAG-3) and pembrolizumab: efficacy results from the 1st line non-small cell lung cancer cohort of TACTI-002 (Phase II)

Presenter: Wade T. Iams, MD – Vanderbilt University Medical Center
Abstract #1478: A phase I study of personalized adoptive TCR T cell therapy in patients with solid tumors: safety, efficacy, and T cell trafficking to tumors of non-virally gene edited T cells

Presenters: Stefanie Mandl, PhD – PACT Pharma
Antoni Ribas, MD, PhD – University of California, Los Angeles
ADDITIONAL DETAILS:
Participating members of the media will have the opportunity to submit questions via chat for up to three minutes following each presentation. To attend this press briefing, you must register as a member of the press for SITC 2022. To register, please visit https://www.sitcancer.org/2022/press/press-registration. After registration is confirmed, you will receive instructions for the briefing. For more information regarding SITC 2022, please visit the Annual Meeting website at http://www.sitcancer.org/2022.
About SITC
Established in 1984, the Society for Immunotherapy of Cancer (SITC) is a nonprofit organization of medical professionals dedicated to improving cancer patient outcomes by advancing the development, science and application of cancer immunotherapy and tumor immunology. SITC is comprised of influential basic and translational scientists, practitioners, health care professionals, government leaders and industry professionals around the globe. Through educational initiatives that foster scientific exchange and collaboration among leaders in the field, SITC aims to one day make the word "cure" a reality for cancer patients everywhere. Learn more about SITC, our educational offerings and other resources at sitcancer.org and follow us on Twitter, LinkedIn, and YouTube.