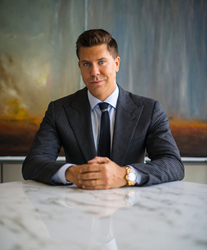 "The SOCIETY Group has handled PR for the biggest properties in the United States, and I am confident we will be able to work together to break even more records in the luxury real estate space." - Fredrik Eklund
LOS ANGELES (PRWEB) May 26, 2020
The SOCIETY Group—an award-winning creative PR firm representing the revolutionaries of real estate in ground-breaking ways—has been named the agency of record (AOR) for Million Dollar Listing megastar and top producing agent, Fredrik Eklund of The Eklund | Gomes Team. Mr. Eklund, along with his partner John Gomes, co-founded The Eklund|Gomes Team at Douglas Elliman with offices in New York, Miami, and now Los Angeles. Together they have secured over $15 billion dollars in closed residential sales, sold out over 50 new developments, and made a name for themselves as the top go-to team for developers, buyers, and sellers.
"As someone with dozens of multimillion-dollar listings, I need an agency partner that understands the luxury real estate industry inside and out, and one that will be a proven partner in telling stories that resonate with prospective buyers," says Eklund, who is currently in production on the ninth season of the Emmy-nominated show Million Dollar Listing New York. "The SOCIETY Group has handled PR for the biggest properties in the United States, and I am confident we will be able to work together to break even more records in the luxury real estate space."
Eklund has secured The SOCIETY Group to handle PR for his West Coast properties, which include 8899 Beverly Blvd (a high-end collection of 40 Tower Residences and 8 Rosewood Houses in the heart of West Hollywood's Arts and Design District).
"My team and I have admired Fredrik for his courage to define real estate on his own terms. His sales, his team, and his vision are proof that Fredrik is a revolutionary of real estate and that is what excites us about working with him," says Alexander Ali, CEO, and Founder of The SOCIETY Group.
The SOCIETY Group and Mr. Eklund previously grabbed headlines together on a Star Wars-themed "May the Sale Be With You" video campaign for a $32 million Beverly Hills home that was featured in People, The Wall Street Journal, and Architectural Digest. The SOCIETY Group will now help raise awareness of Eklund's West Coast properties through targeted media relations campaigns, experiential events, social media strategies, and speaking and award opportunities.
About Fredrik Eklund
With his trademark high kick, record-breaking sales, and socks as colorful as his personality, Fredrik Eklund has become an icon in real estate and on Bravo's Million Dollar Listing series through appearing in both the New York and Los Angeles versions. As the co-founder of The Eklund|Gomes Team with John Gomes, they have secured over $15 billion in closed sales. The Eklund|Gomes Team has allowed Fredrik and John to bolster their ranks with the finest of talent, all brokers of note in their own right, to ensure that all buyers, sellers, and renters all are serviced with the top industry standards they are known for. With the support of over 9,000 members in the Douglas Elliman network, they have carved out a company within a company in three major cities with hundreds of agents under The Eklund|Gomes Team.
About The SOCIETY Group
The SOCIETY Group is a full-service creative agency and real estate public relations firm specializing in property PR, having helped launch over $3.5 billion in luxury real estate worldwide. Creatively driven and highly motivated, they are known for producing unforgettable campaigns and have spearheaded PR for iconic sales such as The Playboy Mansion, Frank Lloyd Wright's The Ennis House, and the world's $500 million mansion, The One. Their ability to tell the stories of posh properties beyond their four walls and foundations has secured worldwide notoriety.
Media Contact
Alexander Ali
CEO, The SOCIETY Group
aa@thesocietygrouppr.com
310-991-6368