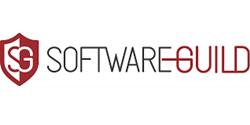 "The option for stackable credentials that the Coding Badges program offers students is leading to workforce-aligned outcomes that are helping close the tech talent skills gap," said Todd Zipper, co-president of Wiley Education Services/Learning House, a Wiley Brand.
LOUISVILLE, Ky. (PRWEB) January 23, 2019
According to projections by the U.S. Department of Labor, by the year 2020, the United States alone will have 1.4 million more software development jobs than applications to fill them. The Software Guild, a career-focused coding bootcamp, is working closely with individuals, companies and schools to close this gap by training apprentices to work with the latest technologies and find lifelong careers. To further meet the industry demand, The Software Guild has launched Coding Badges, an online program that is a cost-effective and flexible way for students to learn at their own pace and pay as they go.
The Coding Badges program consists of four modules: programming basics, object-oriented programming, server-side web development, and full-stack development. Junior-level developers can obtain all four badges in as little as 10 months or may choose to take brief breaks in between badges. The online training allows students to have the freedom to learn and collaborate with instructors and classmates from home, school or anywhere with internet access.
"Forty three percent of online students surveyed in the latest Online College Students report were interested in stackable certificates if offered in their course of study. Now with Coding Badges, working adults have the opportunity to add a new credential to their resume and LinkedIn profile to highlight their career ambitions," said Rachel McGalliard, senior vice president of operations and general manager of The Software Guild. "This is a powerful route for students to have the flexibility to learn code and quickly stack credentials, regardless of location and without racking up debt."
In addition to conducting annual research to explore online college students' changing behaviors and attitudes for the Online College Students report, Learning House, a Wiley brand and parent company of The Software Guild, also surveyed over 600 human resource leaders in last year's Closing the Skills Gap. This report helped to understand where employers are seeing the biggest skills gaps, identify potential solutions for closing those gaps and discover what higher education can do to help.
The findings revealed that the skills gap is causing a significant proportion of employers to more seriously consider hiring candidates without college degrees, which is good news for alternative credentialing bodies like The Software Guild. Two-thirds of employers would hire someone with a recognized industry certification (66 percent) or a certificate of completion (66 percent) in place of a college degree. Nearly half (47 percent) would hire a candidate with a MOOC-degree and one-quarter (24 percent) would hire a candidate with a digital badge.
"Powered by our data-driven research, The Software Guild's curriculum is aligned with the evolving market to meet the needs of working adults looking to land a high-growth tech career," said Todd Zipper, co-president of Wiley Education Services/Learning House, a Wiley Brand. "The option for stackable credentials that the Coding Badges program offers students is leading to workforce-aligned outcomes that are helping close the tech talent skills gap."
The Coding Badges program is offered in two of the top foundational languages used by Fortune 500 companies around the world, .NET/C# and Java. Industry-aligned instructors lead students in a hands-on, project-based format that allows students to acquire real-world skills that they can apply immediately. Additionally, students are individually matched with an instructor who acts as their mentor and has over a decade of industry experience, giving them critical insight to help shape their career goals.
"The Badge program allows us to extend our mentorship relationships across a more flexible schedule and meets the needs of a larger group of apprentices," said Alan Galloway, director of curriculum and instruction at The Software Guild. Randall Clapper, online lead instructor added, "As a mentor for The Software Guild for over 3 years, I'm proud to meet many aspiring developers from different walks of life. We have a high touch mentorship and open-door policy with our junior-level developers both online and face to face, and that's led to over 900 graduates from our programs."
The benefits of learning .NET/C# and Java extend into numerous career paths with high demand for skilled talent and high rewards for employees. In 2018, software developer was named the best job to have by U.S. News & World Report, based on both salary and work-life balance, and CNN named mobile app developer as the top career. Both .NET/C# and Java have multiple applications, from building websites and apps to video games. As technology becomes more central to our lives, the demand for these careers will only increase. For example, there are 5,000 C# jobs advertised in the US alone (and 10,000 globally), with an average base pay of over $90,000 per year.
In addition to receiving micro-credentials, students who complete the Coding Badges program have access to The Software Guild's alumni and employer network for life. To learn more about the Coding Badges program and to apply, please visit: thesoftwareguild.com/digital-coding-badges.
About The Software Guild
The Software Guild is an accelerated, hands-on coding bootcamp where individuals learn to be software developers at an in-person bootcamp or at the fully online program. Apprentices learn technologies like .NET/C# or Java and acquire the skills needed for junior-level developer positions. The Guild has more than 450 companies in its employer network, a high job placement rate and master instructors with an average of more than ten years of industry experience. Currently, The Software Guild has locations in Louisville, KY; Minneapolis, MN; Atlanta, GA; and online. The Software Guild is owned and operated by online education technology solutions provider, The Learning House, a Wiley brand.
About Wiley Education Services
Wiley Education Services, a division of Wiley, is a leading, global provider of technology-enabled education solutions to meet the evolving needs of institutions and learners. With the complement of Learning House, a Wiley brand, we partner with more than 60 institutions across the US, Europe, and Australia, and support over 600 degree programs. Our best-in-class services and market insights are driven by our deep commitment and expertise—proven to elevate enrollment, retention, and completion rates. For more information visit: edservices.wiley.com
Media Contacts:
Wiley
Dawn Peters (US) +1 781-388-8408
newsroom(at)wiley(dot)com
The Software Guild
Alyssa Miller
alyssa(at)ammediaworks(dot)com
+1-973-615-1292