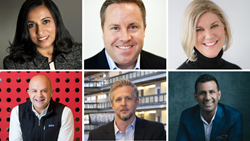 We were impressed with the outpouring of support, respect and admiration for these leaders.
NEW YORK (PRWEB) August 06, 2019
The Software Report is pleased to announce The Top 50 SaaS CEOs of 2019. These exceptional CEOs were selected based on nomination submissions from colleagues, peers and other software industry participants. Nominees were reviewed across a number of key attributes including integrity, intellect, drive, emotional intelligence, organizational culture and operational skill. They were most closely evaluated based on qualitative and substantive commentary provided on the CEOs character.
The most highly regarded CEOs had a high volume of nominations showing consistency to primary characteristics comprising the individual's effective leadership style. And in many cases, we were impressed with the outpouring of support, respect and admiration for these leaders. It became clear that to build a high performing organization supported by a constructive and enduring culture, the CEO needed to posses a unique set of rare skills.
Topping this year's list are Reggie Aggarwal (Cvent), Nick Mehta (Gainsight) and Colin Day (iCIMS), in a category we termed 'Masters of Scale'. At the helm of the second category, termed 'Growth Leaders', are Vineet Jain (Egnyte), Brad Brooks (OneLogin), and Gregg Johnson (Invoca). We would also like to highlight the accomplishments of Dan Rodrigues (Kareo), Tim Wallace (iPipeline) and Sejal Pietrzak (DealerSocket).
Dan Rodrigues founded and built a software company that now supports over 50,000 physicians and other healthcare providers and processes more than $18 billion annually in insurance claims.
Tim Wallace joined iPipeline in 2008 as CEO and since then, has led the company through significant growth and global expansion increasing annual revenue over thirty-fold. Sejal Pietrzak has mastered global marketplaces and software platforms to quickly ascend the executive ranks to the helm of DealerSocket, a leading software provider to the automotive industry.
Other notable awardees for 2019 include Jeff Lawson (Twilio), Mike Gianoni (Blackbaud), Chris Golec (Demandbase), Neil Moses (Mi9 Retail), Will Hayes (Lucidworks), Marne Martin (WorkWave), Dan Latendre (Igloo Software), Dave Dutch (OrderMyGear), Eran Ben-Shushan (Bizzabo), Linda Crawford (Helpshift), John Street (Pax8), Mark Josephson (Bitly), Don MacAskill (SmugMug), Abhinav Asthana (Postman), H. John Oechsle (Swiftpage), Yoav Shwartz (Uberflip), Laura Urquizu (Red Points), Katherine Kostereva (bpm'online), Brendan King (Vendasta), Philipp Schloter (ABUKAI), Greg Mercer (JungleScout), and Gireesh Sonnad (Silverline).
We congratulate each of this year's awardees. https://www.thesoftwarereport.com/the-top-50-saas-ceos-of-2019/
About The Software Report
The Software Report is a comprehensive source for market research and insights, business news, investment activity and corporate actions related to the software sector. Based in New York City, the firm is run by a seasoned team of editors, writers and media professionals highly knowledgeable on software and the various companies, executives and investors that make up the sector. http://www.thesoftwarereport.com