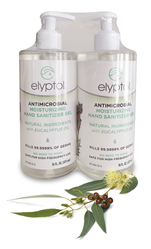 SAN DIEGO (PRWEB) August 18, 2020
Elyptol harnesses the healing properties of eucalyptus oil and naturally-sourced pure ethanol to bring you a product that sanitizes in a healthy and eco-friendly way. Despite its gentle feel, make no mistake that this hand sanitizer is FDA listed and hospital grade.
Costco is selling Elyptol's best-selling gel in 16-ounce bottles, sold in packs of two for $11.49, a 65% savings from normal retail prices. Look for a gentler way to kill germs at your local Costco store and get familiar with the Australian brand taking the U.S. by storm.
To Kill Germs Gently, Think Naturally with Elyptol
Kills 99.99997% of germs with 70% alcohol
Contains eucalyptus oil and pure ethanol derived from sugar cane to eliminate germs gently and safely
Uses botanical food grade ethanol and eucalyptus ingredients known for soothing and healing aching bones and irritated skin
Antimicrobial (not just antibacterial) to kill a wider range of germs
The first Type 1 eco-certified and professionally registered hand sanitizer
About Elyptol: The USA/Australian company takes its natural inspiration from those putting their lives on the line for us every day. Elyptol founder Tim O'Connor recognized just how much health care workers used sanitizers when his daughter was born. These hospital grade formulas wreaked havoc on their hands. With years of extensive research and development using green chemistry, Elyptol became the first Type 1 eco-certified and professionally registered hand sanitizer. It expertly pairs eucalyptus oil, known for its healing properties, and natural sanitizing ingredient pure ethanol, derived from sugarcane and corn. The result is an efficient formula that eliminates germs, yet it's gentle enough on skin and safe for the environment.