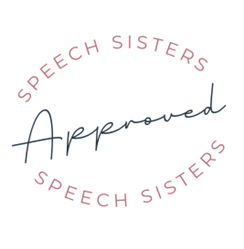 "Weaving speech techniques into a child's everyday activities plays a huge factor in getting them to meet their milestones, which is why we created this list for parents to make playtime even more beneficial." - Brooke Dwyer, Pediatric Speech and Language Pathologist and Co-Founder of Speech Sisters
LOS ANGELES (PRWEB) November 16, 2021
The Speech Sisters, pediatric speech and language pathologists Brooke Dwyer and Bridget Hillsberg, who offer online courses for parents to use simple speech techniques with their kids, unveiled their 2021 holiday gift guide of toys that encourage speech and language building without compromising fun!
"Not only as speech and language professionals, but as moms to little kids ourselves, we understand the importance of a child's playtime being as purposeful and stimulating as it is fun," said Brooke Dwyer, Pediatric Speech and Language Pathologist and Co-Founder of Speech Sisters. "Weaving speech techniques into a child's everyday activities plays a huge factor in getting them to meet their milestones, which is why we created this list for parents to make playtime even more beneficial."
More information on the Speech Sisters courses can be found on their website, http://www.speechsisters.com, and on their Instagram @SpeechSisters.
Speech Sisters-Approved: Best 2021 Toys for Babies and Toddlers to meet Speech and Language Milestones
STACKING/NESTING TOYS
Stacking and nesting toys are so simple but so good for using functional language. We love just repeating the word "up" over and over until the tower falls down and then we repeat the word "down". Simple yet so effective! We love this Melissa and Doug Set:

MR. & MRS. POTATO HEAD
This is an oldie but a goodie! This potato couple is great for teaching your little one body parts, clothing, pronouns (check out our pronoun tea party on instagram), functional language like "put on" and "take off." This toy also gives you an opportunity to introduce your child to one step directions like "put eyes on." We love these amazon exclusive sets: ⠀
PLAY FOOD/KITCHEN SET
Play kitchens and food sets are an amazing holiday gift to get children to start engaging in pretend play! Here are some of the things you can pretend...⠀"POUR HOT water", ⁠"FILL the cup from the fridg⁠e", "CUT the food⁠", "WASH hands in the sink⁠", "SET the oven timer". You can label fruits, vegetables and snacks and use words like "NOM NOM NOM", "MMM" and "Yuck!" while pretend playing. Here are some of our favorites play kitchen sets and items:
DOLLHOUSE
We love introducing children to a dollhouse because the concepts and objects you incorporate with a play house can be easily generalized into your home and everyday routines! Here are some words and concepts you can introduce to your during this play routine: "knock-knock", "open", greetings such as "hi" and "bye" in the bedroom you can use words like "bed", " tired", "sleep", "wake up", and "shhh." We show you how to pretend play with this dollhouse on our instagram page: https://www.instagram.com/tv/CL10GYThdyZ/
PUZZLES
When playing with puzzles, you are the keeper of the pieces and that is a very powerful position! Puzzles are a great activity to help your little one understand and start using the word "MORE". When we are using puzzles in therapy, we are always the keeper of the pieces and all of the puzzle pieces are in a large ziplock baggie or clear container. Each time a client wants a new puzzle piece, they need to either sign or say "MORE" or "OPEN". After they communicate one of these words, immediately reward them with a puzzle piece. For kids who like puzzles, this is motivating enough to get them to request it! We love these puzzles:
CARS
"1-2-3……GO!!" This is our go-to when playing with cars. Cars are also great for teaching exclamatory words like "CRASH" and "BOOM" and can be super motivating for kids. We love these sets:
BABY DOLLS/CHARACTERS
Baby dolls are a great toy to stimulate language development. There are lots of verbs to model when playing with baby dolls like "hug" "kiss" "cry" and "sleep". You can also add doll accessories to your play like a bottle and some pretend food and work on words like "eat" and "drink."
PUPPETS
Puppets are interesting, different, fun and highly motivating! There are SO many activities that can be done to incorporate language learning through puppets. You can use puppets to get toddlers to engage in back and forth interactions by copying the puppet's gestures or words and visa versa!⁠⠀We love to practice this actions like "open your mouth", "wave your hand", and "touch your _____." Here are some puppets we love:
-Melissa & Doug Safari Buddies Hand Puppets, Set of 6 (Elephant, Tiger, Parrot, Giraffe, Monkey, Zebra)

DOCTOR SET
When you play doctor, lots of the concepts and objects you incorporate can be easily generalized into your real life! This game is MOTIVATING so your little one is soaking up all these words and concepts without feeling the pressure to talk! ⁠Here are some of the words and concepts we used within this play routine: ⁠greetings (say "hi" to the patient)⁠ spatial concepts ("put the bandaid ON")⁠, body parts ("Her ARM hurts")⁠, emotions ("The baby feels SAD")⁠, asking questions ("Does it hurt")⁠, answering Questions ("Yes it does hurt") verbs ("CALL the doctor," "SIT on the table")⁠, exclamatory Words ("Ouch!" "Yay!)⁠. Watch Stella and I play doctor in this IGTV. We love this set here:
⁠

CAUSE AND EFFECT TOYS
Cause and effect thinking allows your child to start making guesses about what is happening around them. These types of toys are good tools to teach children that their actions can cause something to happen. We share some of our favorite cause and effect toys below:
PUSH IN TOYS:
Just like with puzzles, when playing with these "push in" toys, you are the keeper of the pieces which is a very powerful position! Again, we like to put the pieces in a large ziplock baggie or clear container. Each time a client wants a new piece, they need to either sign or say "MORE" or "OPEN". Also, once your little one is saying enough functional words you can use these toys to teach numbers and colors. We love these ones.
FARM TOYS:
Did you know animal sounds actually count as a word? Modeling animal sounds can be beneficial to your toddler's expressive language abilities. We always make an animal sound when we label an animal because they are FUN and what is fun is ⁠MOTIVATING!⁠ Animal sounds are the most basic word shapes because they usually only contain a consonant+vowel ("baa" and "moo"). This means they are one of the easiest words to say. Try working on animal sounds with these farm toy sets:⁠
PLAY KITS:
When it comes to play kits our absolute favorite are Lovevery Play Kits. These play kits include simplistic and developmentally appropriate toys that are broken down by age group. Each toy was thoughtfully developed to help build a child's development in one or more areas. The Lovevery toys target language, motor and even academic skills. We love all that they have to offer! https://lovevery.com/
This is just a snapshot of some of the toys we like to use to elicit language but there are many, many more. As you can see, the recurring theme here is these toys are SIMPLE, no batteries or flashing lights!
When playing with your child, choose a few simple yet functional words depending on your play activity and repeat those words over and over and over again. When you REPEAT, they REMEMBER! Also don't forget the importance of motivation…Choose toys that your child enjoys playing with because these toys will help to encourage your child to communicate! And when you are playing, have fun and don't be afraid to be silly and animated… Your little one will love it and be more inclined to start talking!
One last thing, more toys does not always mean more language. There are even ways to build your child's language skills that don't involve toys. Sometimes the magic really happens when YOU act as your child's toy! Let's be real, you are your child's greatest gift anyway.
Toyless-parent-child interactions are FUN & SIMPLE and sometimes even make it easier to teach your little one new words or concepts! We talk all about this in our online courses! So if you are looking to learn simple and effective strategies to help get your little one talking, check out Talk On Track (newborn-14 months) and Time To Talk: Toddler Course (15-36 months)!