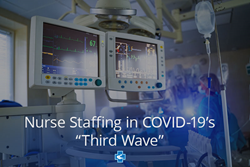 "Our nurses have mourned the loss of patients and have experienced the joy of patients recovering and returning to their families. We are there to support them."
BOCA RATON, Fla. (PRWEB) November 09, 2020
When COVID-19 first took hold in the U.S., it ravaged areas like Washington state and New York, and the demand for travel nurses there skyrocketed. Travel nurses, so-named because they "travel" from location to location, fill short- and long-term staffing needs at hospitals across the U.S. Travel nursing agencies, like American Traveler, provide much-needed supplemental staffing.
One reason that travelers have been so instrumental during the pandemic is that they are accustomed to relocating quickly to regions where they are needed. With every spike of Coronavirus, American Traveler saw an accompanying spike in demand for travel nursing. As one region managed to slow the spread of the virus, another region experienced a surge, and the need for travelers soared there.
Due to the pandemic, many states have expedited nurse licensing processes. In some states licenses can be obtained in as little as one day. The Nurse Licensure Compact also allows for RNs to practice in multiple states. California, known for its extensive licensure requirements, has long been in need of supplemental nurse staffing. In the past few weeks California facilities have shown more flexibility in licensing requirements for travelers, which has eased the staffing situation there somewhat.
With demand going through the roof and supply limited, the pay rates for travelers in many specialties has increased accordingly. Not only are hospitals desperate for qualified RNs, they also know that healthcare workers are taking great personal risk during the pandemic. In many cases, weekly pay rates are two to three times higher than normal.
Where kind of staffing do hospitals need most urgently now?
The specialties currently in highest demand at American Traveler are Med/Surg, ICU (Critical Care), and Telemetry. These are the specialties most often called upon to care for patients with COVID-19, and they have experienced consistently high demand throughout the crisis.
As hospitals have evolved in their response to the pandemic, they have reintroduced elective procedures. This has led to an increased need for traveling Operating Room nurses, Surgical Technicians and PACU nurses -- as facilities work through a backlog of previously scheduled surgeries. Contingent nurse staffing in the Emergency Room is also up, as more patients once again visit the E.R..
An unsettling time for healthcare professionals
RNs are worried about their own health and that of their families. They are concerned about the availability of protective gear and their ability to care for patients while working long hours under unimaginably stressful conditions. And, although nurses in some specialties have had no trouble finding work and getting compensated in accordance with the need for their skills, others have been furloughed and found their skills in lower demand.
Traveling may be an option for RNs looking to fill a temporary employment gap. Agencies like American Traveler advise aspiring travelers to update as much of their documentation as possible, so they can be ready to go at any time.
Flexibility is also key. RNs are encouraged to:

Keep certifications current by planning ahead – due to COVID, recertification classes are limited
Consider working in new clinical settings
Be willing to "float" (work in multiple units)
Be open to new locations, shifts, assignment lengths
American Traveler's Clinical Account Manager, Deborah Bacurin, RN says, "Floating now is a great opportunity to learn new skills and to get additional experience on different units. During this COVID crisis we have had Med Surg nurses float everywhere, including the ICU. This is a terrific opportunity for nurses to add new skills to their resumes. Getting out of the comfort zone can be a little intimidating, but in the long term it creates a more rounded nurse and shows flexibility. And love of our profession! "
Where needs are greatest
As of November 2020, the number of open travel nursing jobs is the highest American Traveler has EVER seen. In the spring and summer the COVID spikes were in more defined locations. This time the surge in COVID is more widespread. There are a finite number of licensed healthcare practitioners in the country, and they are now spread thinner than ever. Core hospital staff is fatigued, and so are travelers who have worked extended hours for many months.
Mary Kay Hull, Vice President of Recruitment at American Traveler adds, "We know that our nurses are exhausted and have had so many challenging days. They have mourned the loss of patients and have experienced the joy of patients recovering and returning to their families. We are there to support them. Our country needs them and appreciates them. We are honored to support frontline nurses and get them to the patients who need them most."