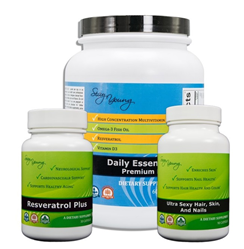 "Whenever possible, we try to add supplements that check all the boxes: free of gluten, free of dairy, and vegetarian." - Mark Anderson, MD
DALLAS (PRWEB) July 13, 2020
The leadership of Executive Medicine of Texas knows first hand how hard it is to find high-quality, rigorously tested, nutritional supplements when you have special dietary needs. Walter Gaman, MD, one of the founders of the practice, has Celiac disease. He also suffered from nutritional deficiencies, something he discovered during a micronutrient test, a blood test that looks for deficiency in twenty-seven different vitamins and minerals. "The deficiencies were problem I knew I needed to fix, but I also needed to be sure it was safe for me to take the supplements I was going to purchase," says Dr. Gaman.
Dr. Gaman says his experience, which was over a decade ago, was the birth of the Stay Young Supplement line. A line that first started with just the basics, like multi-vitamin, Vitamin D3, and Omega 3. Since those days it's grown to a multitude of products, all carefully researched and produced by only the top labs in the United States. "Whenever possible, we try to add supplements that check all the boxes: free of gluten, free of dairy, and vegetarian. Sometimes, because of the source of the nutrient, we can only check two of the three." explains Mark Anderson, MD. "Our patients, and the consumers of our line, know that we're on a mission to make their lives a bit easier."
This year alone, the Stay Young Supplement line has added three new products, including MetaboCore, a drink mix formula that helps maintain normal blood sugar levels, supports healthy body weight and metabolism, promotes a feeling of fullness and reduces cravings, and also strengthens cardiovascular. "This supplement," Dr. Anderson says, "checks all three boxes and became popular almost immediately." This, like all supplements on their site are clearly described to make ordering as easy as possible.
About: Executive Medicine of Texas is a world renowned luxury medical practice that focuses on preventive and proactive medicine. People fly in from around the globe for their executive physical exams, concierge medicine programs, and age management products. The Stay Young Supplement line can be ordered online and shipped within the US (except California).