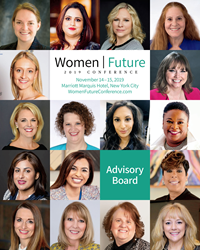 FAIRFAX, Va. (PRWEB) June 13, 2019
The Stevie® Awards, organizer of the world's premier business awards programs, is proud to present the second annual Women|Future Conference and the advisory board that is curating the topics, speakers, and networking events that will allow attendees to better position themselves and their organizations in tomorrow's marketplace.
The mission of the conference is to help working women – entrepreneurs, executives, and employees – understand and prepare for the changes that will affect their businesses, their industries, their careers, and their lives.
This two-day event will be presented in conjunction with the 16th annual Stevie Awards for Women in Business on November 14-15, 2019 at the Marriott Marquis Hotel in New York City.
The 2019 advisory board members are:

Kaitlyn Bunker, Manager, Rocky Mountain Institute
Shimona Chadha, Associate Vice President – Marketing, HCL
Molly Gimmel, CEO, Design to Delivery Inc.,
Terry Grim, Founding Partner, Foresight Alliance
Katie Harding, Head of Delivery, Elliott Browne International
Dr. Susan Harrison, Founder and CEO
Erin Joy, Founder and CEO, Black Dress Circle
Debra Kunz, Founder, Center for Deliberate Growth
Sonia Mundra, President, Chenega Analytics Business Solutions
Marissa Q. Paine, MSW, Principal & CEO, Painefree Coaching & Consulting
Dr. Charu Raheja, CEO, Triagelogic and Continuwell
Gabriela Ramírez-Arellano, Business Counselor, Hispanic Chamber of Commerce
Dr. Karen Townsend, President, KTownsend Consulting
Victoria Usher, Founder and CEO, Ginger May
Kathy Warnick, Owner, Warnick Consultants, LLC
Becky Wilson, Owner and Chief Visibility Officer, WDS Marketing and Public Relations
Nancy Zurbuchen, Entrepreneur
Advisory board members Shimona Chadha, Molly Gimmel, Dr. Susan Harrison, Victoria Usher, Becky Wilson, and Nancy Zurbuchen are past Stevie Award winners.
The Women|Future Conference is now accepting sponsorships. Speaker and topic proposals may be submitted at https://www.womenfutureconference.com/speaker-topic-proposals. The deadline for submission is June 14. Questions about the conference, presentation opportunities, and sponsorship options may be directed to Ruslana Milikhiker, Conference & Event Manager, at Ruslana@StevieAwards.com.
About the Stevie® Awards
Stevie Awards are conferred in seven programs: the Asia-Pacific Stevie Awards, the German Stevie Awards, The American Business AwardsSM, The International Business Awards®, the Stevie Awards for Great Employers®, the Stevie Awards for Women in Business and the Stevie Awards for Sales & Customer Service. Stevie Awards competitions receive more than 12,000 entries each year from organizations in more than 70 nations. Honoring organizations of all types and sizes and the people behind them, the Stevies recognize outstanding performances in the workplace worldwide. Learn more about the Stevie Awards at http://www.StevieAwards.com.