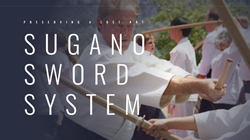 "We are experiencing a high volume of requests for the Sugano Sword System as aikido students and teachers around the world are looking for a reputable source of aikido swordsmanship training to offer to their students," says Gentil Pennewaert Shihan, Dojo Cho of Newport Beach Aikikai
NEWPORT BEACH, Calif. (PRWEB) September 03, 2020
Since March 2020 when the world declared a pandemic, martial artists around the world were looking for solutions for online training. Newport Beach Aikido has a unique samurai sword training system developed by the late Seichii Sugano Shihan, captured in two volumes available for download. As dojos around the country are limiting their practice and many studios closing down, aikido practitioners are looking to stream or download digital aikido lessons.
The Sugano Sword System 1 and 2, has increasingly become more popular with requests for downloads peaking at over 300% in sales. Most aikido instructors don't have the weapons training experience to teach the lessons properly and often gain bits and pieces from attending seminars. Only a few seniors in the Aikido community have developed weapons systems to help their students understand aikido better.
Newport Beach Aikido has been very fortunate over the past few decades before the passing of the late Seichii Sugano Shihan (a master swordsman in aikido). In fact, Gentil Pennewaert Shihan was his otomo for many years (a traveling deishi and apprentice) and was able to film the Sugano Sword System at Newport Beach Aikido in California.
"We are experiencing a high volume of requests for the Sugano Sword System as aikido students and teachers around the world are looking for a reputable source of aikido swordsmanship training to offer to their students. With the social distancing measures in place, practicing the samurai sword is a great alternative to hand techniques. Many of the hand techniques in aikido are developed from the Samurai sword techniques. Our dojo, in particular, has pivoted our training strategies to an all weapons-based training. Our students are loving the deeper focus on weapons training and seeing the correlations to the hand techniques that they are so familiar with. It is a great opportunity to improve your timing, distance, and direction." Gentil Pennewaert Shihan, Dojo Cho at Newport Beach Aikikai
The late Sugano Shihan was from a nearly lost generation (only a few are left) of key uchi deshi (live-in-students) who studied daily and directly with the founder of aikido, Morihei Ueshiba, otherwise known respectfully as O-Sensei to aikidoist worldwide. As part of his training with O-Sensei, Sugano Shihan studied weapons and particularly with the bokken. Unfortunately, O-Sensei never established a systematic way of practicing with the sword. Sugano Shihan was a master swordsman and, like the rest of his aikido technique, known for his power, speed and uncanny sense of timing.
There five fundemental patterns (icho no ken, ni no ken, san no ken, yon no ken, and go no ken) presented over the course of two volumes (taped several years apart). These two volumes (available on DVD or for download) are available now from the Shin Do Kan Aikido dojo in California.
Even as Sugano Shihan worked to create a systematic approach to practice with the sword, his instruction had always remained incredibly dynamic and constantly evolving. Sugano Shihan's weapons instruction was organic and free from any kind of formal kata. At the Shin Do Kan dojo in Newport Beach, California (where Sugano Shihan would teach twice a year), he would pair off the students and have them practice basic sword patterns with the bokken designed to develop correct body positioning (hanmi), timing, and increased awareness of distance. These patterns would have been lost to the world of aikido if it were not for his key students Tony Smibert Shihan, Robert Botterill Shihan, and Hanan Janiv Shihan, but chiefly Sensei Gentil Pennewaert who supervised the video taping of Sugano Shihan's way of practicing with the bokken.
About Newport Beach Aikido
As Orange County's #1 Rated Aikido dojo, Gentil Pennewaert Shihan, 6th Dan and Dojo Cho founded Shin Do Kan Dojo in 1987 in Belgium with a second satellite location in Newport Beach. Sensei Pennewaert insures a high standard of safety at all times and provides a solid foundation in the basic fundamentals of aikido technique and etiquette. Students have unlimited monthly training with seven days a week classes for adults, teen, and children. Weapons training with the jo, bokken, and tanto are also offered to increase the understanding of timing, distance, and direction in Aikido.