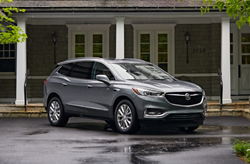 COLLINS, Miss. (PRWEB) August 29, 2019
Sullivan Motors has been serving shoppers since 1971. They offer a large selection of new and used Chevrolet, Buick and GMC vehicles. The dealership serves shoppers in the Collins, Laurel and Hattiesburg area. Sullivan also offers vehicle maintenance services to ensure drivers are running smoothly.
New to the Sullivan Motors lot is the 2020 Buick Enclave. The dealership offers a variety of trim levels and colors to ensure there is the 2020 Buick Enclave available for all interested shoppers.
The 2020 Buick Enclave is tomorrow's SUV for today's family. This SUV has open space and versatility to take families anywhere. No matter whether there is a weekend adventure in the plans or taking the kids to practice, there will always be the flexibility to fit everything needed without having to compromise the seating area for all the passengers. With all the thoughtful amenities in the 2020 Buick Enclave, it will become home away from home.
Made to help drivers navigate the unpredictable, the 2020 Buick Enclave has a suite of available safety technology. While these driver-assistance features should never be used to substitute for the driver's responsibility to operate the vehicle, they are useful to alert the driver if there is a potential threat they may not notice.
Shoppers are invited to schedule a test drive today. For those who are interested in the 2020 Buick Enclave can contact Sullivan Motors by calling them at 601-921-4629 or by filling out an online form on the dealership's website. The dealership is located at 3114 Highway 49 in Collins, Miss.