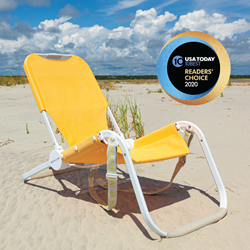 "We are so excited to be recognized in our first year of business and can't wait for people to gift SUNFLOW to their friends and loved ones." - Leslie Hsu, Founder, SUNFLOW
NEW YORK (PRWEB) November 09, 2020
SUNFLOW, a direct-to-consumer (DTC) brand designing products that transform the beach experience, today announced its Sunflow Chair has won the 2020 USA TODAY 10Best Readers' Choice Travel Award Contest for Best Splurge-Worthy Gift.
Launched on May 22, 2020, SUNFLOW has enjoyed a successful inaugural season through both its e-commerce and seasonal store in East Hampton, NY. The brand is also planning to open a pop-up store in The Mall at Short Hills for Holiday 2020 and Spring 2021.
The 10Best Readers' Choice Award contest launches new categories every other Monday at noon, revealing each category's 20 nominees. After 4 weeks of voting, the contest closes on the 28th day at noon. On the Friday after voting ends, winners are revealed. Rules allow the public the right to vote online for one nominee per category, per day.
Nominees for the 2020 USA TODAY 10Best Readers' Choice travel award contest were chosen by a panel of relevant experts which include a combination of editors from USA TODAY; editors from 10Best.com; relevant expert contributors; and sources for both these media and other Gannett properties. The nomination panel for each award category is displayed on its associated contest page. All voting is digital and the 10Best Readers' Choice Award contest is accessible on the 10Best.com website.
"We are so excited to be recognized in our first year of business and can't wait for people to gift SUNFLOW to their friends and loved ones," said Leslie Hsu, Founder of SUNFLOW.
The Sunflow Chair, expertly engineered for ultimate comfort and crafted of Water-Resistant Marine Fabrics, reclines to four positions, is seamless to set up and easy to carry with its detachable backpack straps. Equally impressive is SUNFLOW's Sun Shade, made with UPF 50+ fabric which protects against 98% of the sun's harmful UV Rays. Constructed for you to control how much, or little, coverage you desire by finding the perfect angle for your shade, this item tucks away neatly behind your Sunflow Chair. In addition to the Sun Shade, SUNFLOW offers a Drink Holder, Dry Bag and Towel that integrate with the chair to provide a comfortable, carefree outdoor experience.
Beyond the beach, the Sunflow Chair can take you to the pool, backyard, roof deck and so much more – with SUNFLOW, there's no limit on style and comfort. With new prints and colors being introduced for the holiday season, SUNFLOW offers the perfect gift for the beach lovers in your life.
ABOUT SUNFLOW
SUNFLOW is a premium beach brand, founded by life and business partners Leslie Hsu and Greg Besner, with the goal of filling every day at water's edge with smiles. Hsu was inspired to design the Sunflow Chair and the inaugural suite of accessories after a particularly frustrating day at the beach. After three years of research and development, SUNFLOW launched on Memorial Day 2020 with 5 products and now has more products in the pipeline to improve every outdoor experience.
Media Contact:
JMediaHouse
Jason Geller
jason@jmediahouse.com
212-920-0398