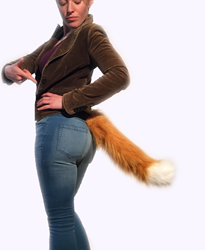 "I always wanted to have a tail! I think evolution was pretty cruel in that regard, don't you think?
LONDON (PRWEB) October 08, 2018
DIGITAiL, the revolutionary smart, animatronic tail that can be can be controlled via smartphone app, is live on global crowdfunding platform Kickstarter and raising funds to bring the project to life.
The Tail Company has taken the world's most realistic animatronic tail on the market and given it a life of its own with an upgrade that enables the tail to move, shake and react like never before all via a connected bluetooth app app. For anyone that's ever wanted to show off their personality with a tail of their own, the DIGITAiL introduces new life into furry behinds with endless possibilities for motion and realistic tail behavior.
"I always wanted to have a tail! I think evolution was pretty cruel in that regard, don't you think? So ten years ago we started designing a really natural moving, animatronic tail. The original run of 100 sold out very quickly and I realized that to have a cheeky extra limb behind you was actually a pretty popular idea!" says founder and CEO Andrew Shoben on the inspiration behind the project. "The company was formed, and we have handmade many thousands of Tails since, from huskies to aliens to popular television and comic book characters- each one customized for free. Cosplayers love them, LARPERs love them, lifestylers, ravers and clubbers, TV and film producers, and of course, people like me, who just think having a tail looks like great fun!"
The all-new upgraded DIGITAiL will enable users to chain many different moves together in to a Move List, perhaps for different moods. A move designer feature will enable each move to be truly unique in real-time, allowing greater control and customization. In addition, the tail will react and dance in sync to music while a pose mode will enable users to select their favorite position for their tail and have it freeze in place, to snap the perfect photo. Future updates are also planned to enable real-time phone notifications to activate tail movement. Incoming calls, alarms, text and email notifications, GPS directions and more will cause tails to wag, alerting wearers of real-time updates and info.
"Well, If you want a tail now, you can buy some lovely handmade, stuffed tails that you attach to your trousers. Lovely to look at. But our tails have the spark of life. They move beautifully, even without power," adds Shoben. "When they're doing their thing, they're basically a real tail. Our tails also have removable covers. Get yourself a cheeky fox, and change it up to a sophisticated wolf anytime. Start with a Bunny, and go Husky whenever you like."
The DIGITAiL is currently live and available to support on Kickstarter: https://kck.st/2xtBfDX
About The Tail Company
The Tail Company has been creating its natural, lifelike animatronic tails for 12 years. Their tails are worn by a diverse audience, from cosplayers to film actors, via lifestylers, party animals and festival goers, all over the world. The Tail Company – Tech that's always behind you For more information on The Tail Company please visit https://thetailcompany.com